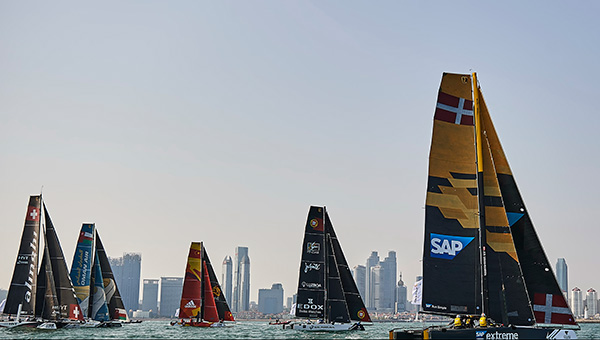 Eight elite teams from all over the world competed in the 2016 Extreme Sailing Series Act Two in Fushan Bay, Qingdao, from April 29 to May 2. [Photo provided to chinadaily.com.cn]
Act Two of the 2016 Extreme Sailing Series ended Monday in Qingdao, East China's Shandong province, with Team Alinghi from Switzerland winning the championship.
More than 50 top-notch sailors from eight teams around the world participated in the four-day competition.
This season of the Series for the first time saw a Chinese team compete. The team, named "One", included Liu Xue, a native of Qingdao, on the crew.
According to the organizers, this year saw the Series enter an exciting new era with the move to cutting-edge GC32 catamarans, capable of flying across the water on hydrofoils, which makes this competition more fast-paced and thrilling.
A face-to-face exchange between the sailors and over 300 children from local schools was held to help the younger generation learn more about sailing.
Established in 2007 and dubbed the "F1 on the Sea", the Extreme Sailing Series is the original "stadium-style" racing circuit designed for spectators, delivering high-performance action close to shore.
As China's "Sailing City", Qingdao has been a part of the event for six years.