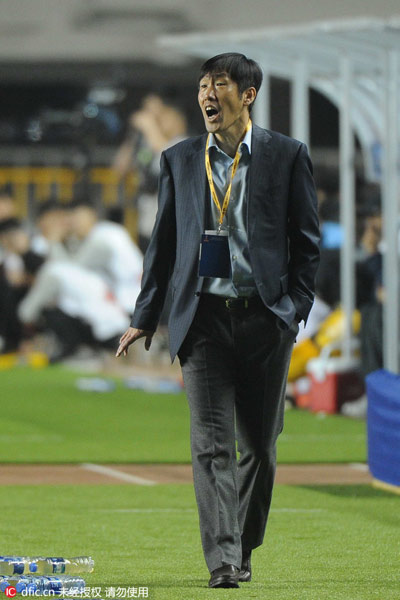 Gao Hongbo, head coach of Chinese soccer team, reacts during a World Cup qualifier against Qatar on Tuesday in Northwest China's Xi'an. [Photo/IC]
The head coach of Chinese soccer team Gao Hongbo will likely remain in his position and lead the team in Asia's final qualifying round of 2018 World Cup after China secured a thrilling win over Qatar on Tuesday, said news portal Sohu.
China beat Group C leader Qatar by 2-0 in the final match of the group stage in Asian qualifiers of 2018 World Cup, sealing their return to Asia's final qualifying round after 15 years. The last time China made to the final stage of Asian qualifications was in 2001 and it was also the only time China qualified for the World Cup.
Asked whether the team will have foreign coach in the future, Gao said: "Football is a team sports. The quality of a team cannot be changed by one or two coaches."
"It is not fair to say a coach is good or bad. It is all about whether the coach's philosophy is suitable for the players."
Gao added that the team will be reinforced with foreign staff, and who will lead the team in the final qualifying stage remains to be seen until late April.
The 50-year-old first became the head coach of China in 2009. Some of the team's feats during his reign include 3-0 win over China's arch rival South Korea, and 1-0 victory over France. But Gao was laid off in 2011 after China failed to get through the group stage in Asian Cup.
Gao was reappointed as the head coach this February to lead the team in the remaining two games in the World Cup qualifying group stage after his predecessor Alain Perrin was fired due to the team's poor performance in the early group stage.