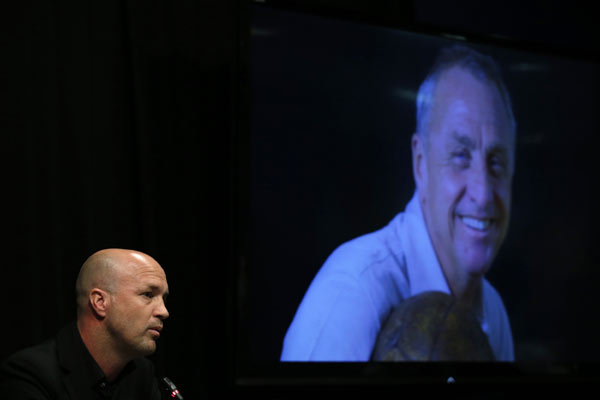 Jordi Cruyff, son of Dutch soccer player Johan Cruyff, attends a news conference during a memorial event for his father at the Camp Nou stadium in Barcelona, Spain, March 29, 2016. [Photo/Agencies]
MADRID - Jordi Cruyff on Tuesday publically thanked everyone for their support and affection following the death of his father, the FC Barcelona legend Johan Cruyff last Thursday.

Johan Cruyff, who was 68 when he died of lung cancer, is considered the man who completely turned around the fortunes of FC Barcelona to usher in the period which has seen them become best side in World football.

On the Saturday following his death the club opened an area for fans to pay their respects over a four day period, which closes on Tuesday night.

By Sunday lunchtime over 50,000 people had visited the memorial, leaving flowers, scarves, messages and even lollipops as mementos for Cruyff.

Speaking in the press office at the Camp Nou Stadium, Jordi, himself a former Barca player, explained that although the family had at first wanted to keep their mourning private they had realized that "Johan is not just ours, he is everyone's."

"My mother, my sisters and I have all seen the great shows of affection and respect and we have opened up a bit more." he said, before thanking the doctors who had tried to save Johan as he battled against lung cancer.

All of the surviving Barcelona presidents have visited the memorial and Tuesday saw players from the club' s various squads all pay homage to the former player and coach.

"There was always symphony and mutual respect with Barca," said Jordi, who added that the last accord his father had signed had been between the Johan Cruyff Foundation and his former club.

"It was his last signature when he was alive and it was one of his most special ones," concluded Jordi.