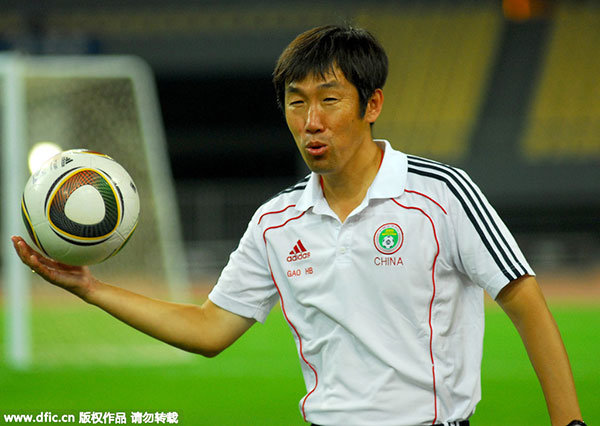 Gao Hongbo, head coach of the Chinese national mens soccer team, is seen during a training session in Nanning city, Guangxi Zhuang autonomous region, in August in 2010. [Photo/IC]
The Chinese Football Association has turned back the clock by naming ex-national player Gao Hongbo national team coach for a second time.
Gao, a striker in the early 1990s, takes over as interim coach after predecessor Alain Perrin of France was dismissed last month for the squad's poor performance in 2018 World Cup qualifying, the CFA announced on its website.
Coach from 2009 to 2011, Gao is tasked with guiding the squad through the remainder of the qualifying tournament.
After a defeat and two draws in the first phase last November, China missed out on a direct berth in the final stage and was left with only a slim chance to qualify depending on other teams' results.
Team China will play the Maldives at home on March 24 before hosting Qatar five days later to fight for a theoretical chance to qualify for Russia.
Lin Xiaohua, a member of the CFA's executive committee, said Gao was the most suitable choice at the moment.
"The remaining two games will come very soon. We need a coach who understands the conditions of all the national team players as well as our opponents' strength and weakness in Asia. Gao was second to none to take the post under the current situation," Lin said at the draw ceremony for the 2016 CFA Cup on Wednesday.
A prolific scorer in his prime, Gao instilled his attacking philosophy in the national team during his first spell in charge as he led the side to beat South Korea 3-0 at the East Asia Cup in February 2010, ending the squad's 32-year winless run against Korea.
China recorded 23 wins in 38 internationals under Gao, who was replaced by Spanish coach Jose Antonio Camacho in 2011.
Jin Zhiyang, former national team coach and renowned youth promoter, stressed that homegrown experts such as Gao fit better than costly foreign coaches in guiding China now.
"Spending a huge amount of money to sign big-name coaches, who don't know much about the game's status in China, won't help at all. Rather than investing in the national coach the CFA should support youth training with more funding," he said.
Before Gao's appointment was announced, the CFA was seeking a replacement for Perrin globally with former Japan national manager Zico of Brazil and ex-Italian national coach Cesare Prandelli confirmed as candidates.