Madrid - Real Madrid coach Zinedine Zidane has launched a staunch personal defence of Spanish tennis star Rafael Nadal after the 14-time Grand Slam champion was accused by a former French sports minister of covering up a failed drugs test.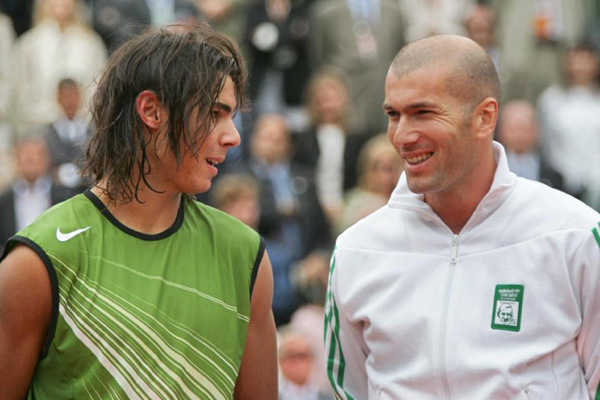 French football player Zinedine Zidane (R) chats with Spanish tennis star Rafael Nadal on June 5, 2005 in Paris. [Photo/Agencies]
Roselyne Bachelot, France's sports minister between 2007 and 2010, claimed Nadal had faked an injury in 2012, when he missed the final six months of the season due to knee problems, to cover up a failed test.
"I feel bad for Rafa Nadal because he is a gentleman, a person that has shown the values he has and that everyone loves," Zidane said of Nadal, who is an honorary member of Real Madrid.
"He is a professional and I know him a little. I feel bad for what they have said.
"He has to leave all this to one side and think that everyone who loves sport, loves Rafa Nadal, whether they be French, Spanish or American."
Real Madrid also released a statement in defence of one of Spain's most loved and admired sportsmen.
"Rafa Nadal represents the fundamental values of sport. His greatness and his incredible achievements have always been based upon a foundation of exemplary conduct, unwavering work, talent and astonishing levels of commitment."
Bachelot's comments came in the wake of five-time Grand Slam champion Maria Sharapova's admission that she failed a drug test at the Australian Open.
And Nadal shot down the latest wave of accusations against his achievements in the sport ahead of his return to action this week in Indian Wells.
"I have never had the temptation of doing something wrong. I am very far from that, doping," said Nadal.
"I heard it a few times again about doping...and I am a little bit tired with that."
Nadal's uncle and coach, Toni Nadal, went further as he furiously called Bachelot an imbecile on Spanish radio.
"These days, instead of proving someone's guilt, you have to prove your innocence," he told Rac1.
"Then an imbecile like this person can say any nonsense and see what happens."
The Barcelona Open, where Nadal will play next month, also released a statement showing their support.
"The Barcelona Open expresses its full support for Rafael Nadal as a result of the malicious, unjustified and unacceptable statements made by former French Minister for health and sport, Roselyne Bachelot."