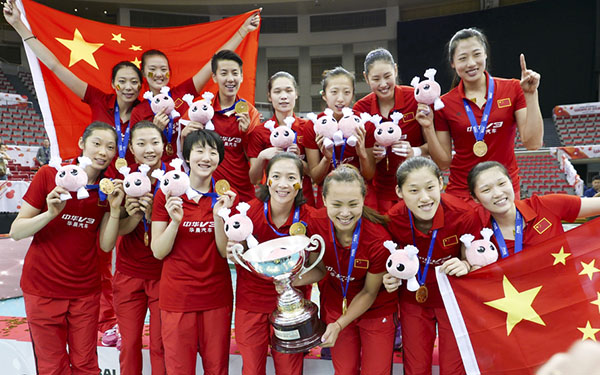 Chinese players pose for a group photo after beating Japan to win the women's volleyball World Cup in Nagoya, Japan, on Sept 6, 2015. [Photo/CFP]
The once all-conquering Chinese women's volleyball team regained its mojo by outperforming host Japan to win the FIVB World Cup on Sunday and qualify for the Rio de Janeiro Olympics next year.
Guided by former star spiker, the 'Iron Hammer' Lang Ping, the Chinese overcame a second-set scare to defeat Japan 3-1 on the final day of the World Cup in Nagoya to finish top of the 12-team tournament and clinch a direct berth to the 2016 Games.
The World Cup trophy was the first world title China has clinched since its gold at the 2004 Athens Olympics, under former mentor Chen Zhonghe.
It was also the first major crown (Olympics, World Championships and World Cup) to be placed on the resume of coach Lang, who returned to the Chinese national post in 2013 after leading China and the United States to silver medals at the Olympics in 1996 and 2008 respectively.