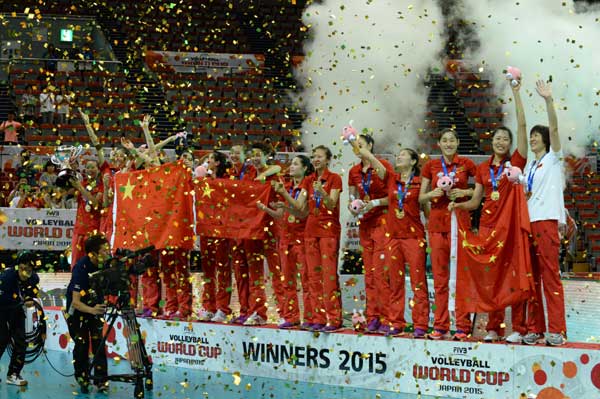 Team China poses on the podium after defeating Japan to win the FIVB Women's World Cup in Nagoya, Japan September 6, 2015. [Photo/Xinhua]
NAGOYA - Jenny Lang Ping led China secure their fourth World Cup title and a berth in the Rio Olympic Games on Sunday with a hard-earned 3-1 victory over arch-rivals Japan in their last match and a 10-1 win-loss record at the 2015 FIVB Women's World Cup.
Having landed World Cup gold medals in 1981 and 1985 as a player, Jenny became the first female head coach to win a World Cup title in history. After finishing runner-up as head coach of China and USA at the Atlanta Games, Beijing Games in 1996, 2008 and the World Championship in 1998 and 2014, Jenny finally got the touch of gold for the first time in her coaching career.
"I care about winning, but not that much, I was just trying to do my job every day," said Jenny. "Maybe god finally has pity on me and let me win this time."
It was also the first World Cup for the Chinese women in 12 years. Their most recent success came in 2003 when Chen Zhonghe took China to the victory.
"Jenny made really good use of her players, every member of this team was very important to China's victory," said FIVB Life Honorary President Wei Jizhong. "She has built a united team with great fighting spirits."
Nevertheless, Wei believed the Chinese team would meet bigger challenge at the Rio Olympic Games next year.
"Strong teams like Brazil, Italy are not playing in this World Cup and we can see the improvement of Serbia and Russia from this tournament, for sure the Olympic Games in Rio will be more difficult."