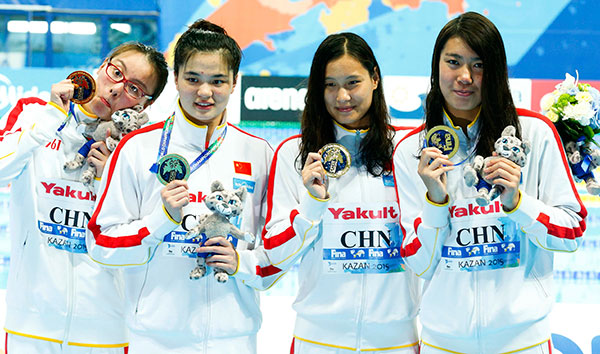 China's first placed Fu Yuanhui, Shi Jinglin, Lu Ying and Shen Duo (L-R) pose with medals after the women's 4x100m medley relay final at the Aquatics World Championships in Kazan, Russia, August 9, 2015. [Photo/Agencies]
KAZAN - China missed the chance to win the men's 1,500m freestyle title for the consecutive third times at world championships but it might gain some comfort with the women's 4x100m medley relay gold medal at the Kazan worlds here on Sunday.
China's swimming superstar Sun Yang made a surprising withdrawal of the 1,500m final, as the two-time world champion as well as London Olympic champion of the event wasn't introduced Sunday night along with the rest of the seven-man field.
Chinese swimming officials said the 23-year-old had to miss the final due to heart discomfort.
Sun appeared at the last ceremony of the worlds, receiving the Male Swimmer of the World Championships award. He attended the press conference and made an apology for his withdrawal.
"I am sorry that I failed to compete in the 1,500m final," he said, who finished third in the heats on Saturday which were topped by Italian Gregorio Paltrinieri, 800m freestyle runner-up to Sun on Friday.
"I had to pull out of the final as I felt a heart discomfort before the race," said Sun, winner of the 400m freestyle and finished second over 200m. "I didn't feel good after the 800m final but I really wanted to take part in the 1,500. So I came to warm up today, but after the warm-up, I was still not feeling good."
Paltrinieri won 1,500m in a European record of 14:39.67, while American Connor Jaeger took silver in 14:41.20 with Ryan Cochrane of Canada third in 14:51.08.
"I am happy for the winner," said Sun. "I also noticed his time. I think I can compete with him in Rio Games, and if I am in good form, I still think I will be the best."