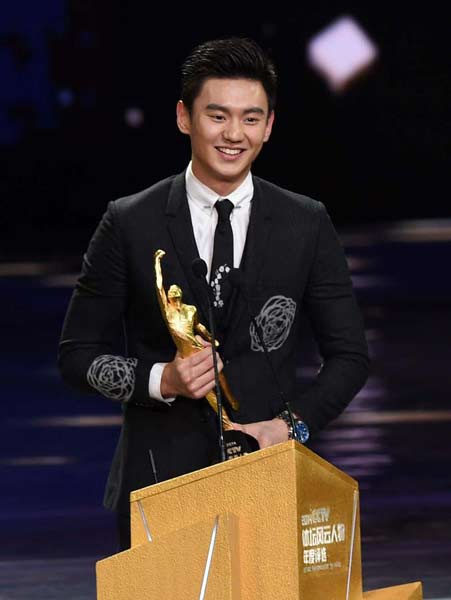 Swimmer Ning Zetao receives the award of Best Male Athletes of the Year at the annual CCTV Sports Awards in Beijing, on Feb 1, 2015. [Photo/Xinhua]
BEIJING - Swimmer Ning Zetao and tennis superstar
Li Na
won the Best Male and Female Athletes of the Year resepectively at the prestigious China's Central Television (CCTV) Sports Awards on Sunday.
The annual CCTV Sports Awards, recognized as the Chinese version of the Laureus World Sports Awards, is taken as the premier honors on the Chinese sporting calendar.
Ning beat out other four nominees, including badminton superstar Lin Dan and 2014 Table Tennis Men's World Cup winner Zhang Jike, to claim the honor.
The 21-year-old Ning claimed four gold medals at the 17th Asian Games in Incheon, South Korea and also broke men's 100m freestyle Asian record.
Winners of China CCTV Sports Personality Awards of Year 2014
Best Male Athlete: Ning Zetao, Swimming;
Best Female Athlete: Li Na, Tennis;
Best Pair: Chen Shiwei/Xie Zhenye/Su Bingtian/Zhang Peimeng, Athletics;
Best Team: Women's volleyball team;
Best Coach: Lang Ping, Women's volleyball;
Best Rookie: Yuan Xinyue, Volleyball;
Breakthrough: Zhang Hong, Speed Skating;
Best Sportsmanship: Dai Jianrong, Teacher of special children;
Best Disable athlete: Women's Wheelchair basketball team;
Best Non-Olympic athlete: Chen Penbin, ultra marathon;
Sports Special Contribution: Li Na, Tennis