Ning is China's new gold standard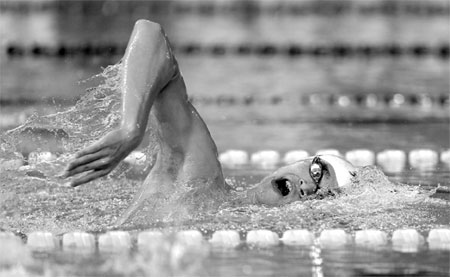 China's Sun Yang competes in Friday's 1500m freestyle final of the Asian Games at Munhak Park Tae-hwan Aquatics Center in Incheon, South Korea. World record-holder Sun clocked a time of 14 min, 49.75 sec while South Korea's Park Tae-Hwan finished out of the medals, leaving the local favorite winless in his four individual events. Tim Wimborne / Reuters
Less than 24 hours after China's Ning Zetao won his third gold of the Asian Games in the 100m freestyle, the lightning-quick 21-year-old from Zhengzhou, Henan province, completed a personal sweep at the Munhak Park Tae-hwan Aquatic Center on Friday night by anchoring his team to victory in the 4x100 medley relay.
China's time of 3:31.37 established a new Asian Games record.
Earlier on Friday, Olympic champion Sun Yang powered to his third gold by winning the 1,500m freestyle, and double Olympic champion Ye Shiwen also captured her third gold at the Incheon Games by winning the women's 200m individual medley.
Ye won the 200m and 400m IM at the 2012 London Olympics.
World record-holder Sun clocked a time of 14 minutes, 49.75 seconds on Friday night while South Korea's Park Tae-Hwan finished out of the medals, leaving the local favorite winless in his four individual events.
Japan's Kohei Yamamoto took silver in 14:54.86, with China's Wang Kecheng well outside the 15-minute mark.
Sun arrived on deck sporting his gold headphones and Park, who has admitted to suffering from nerves competing in a pool named after him, appeared to shrink in his presence as he lined up alongside.
Sun, who also captured gold in the 400m freestyle and 4x100 relay, never trailed.
He was two body-lengths clear of Yamamoto by the midway point and pulled away to defend his title with plenty left in the tank.
Meanwhile, Ning declared that a painful knee problem that plagued him as a teenager is now behind him - as evidenced by his quadruple gold performance.
Ning, who shaved more than half a second off his 100m freestyle Asian record, was born with a bone infection in his right knee that left him in agony every time he trained his kicks.
He also had a digestion problem which meant he could only eat soft food and restricted his weekly training to part-time sessions for several years.
But after dominating the 100m freestyle to add to his gold in the 50m and 4x100 freestyle relay, Ning said he has been free of the knee pain since he stopped growing.
"I had knee problems until I was about 19 years old. It was very painful up until that time, but it's OK now," he said.
The infection has left Ning with a protruding bone above his shin and a right knee that is noticeably bigger than the left.
"My right knee is a different shape than my left, it's thicker," he said, rolling up his trouser leg.
"It doesn't affect my swimming though, because I have got used to it."
Asked if he thought the injury had held him back at a crucial stage of his development, Ning was philosophical.
"Who knows if I would have been better if I hadn't had these conditions?
"No one can know that."
Certainly, Ning has shown no signs that he is anything other than 100 percent fit this week.
He has shone as brightly as Sun, anchoring China's two relay teams to victories in addition to his two individual gold.
"I'm very excited with my gold medals. They are very important for me and the team," said Ning, after touching in with a time of 47.70.
"I broke the Asian record and I was under 48 seconds, which is very pleasing."
He said his next goal is to top the podium at the 2015 world championships in Kazan, Russia.