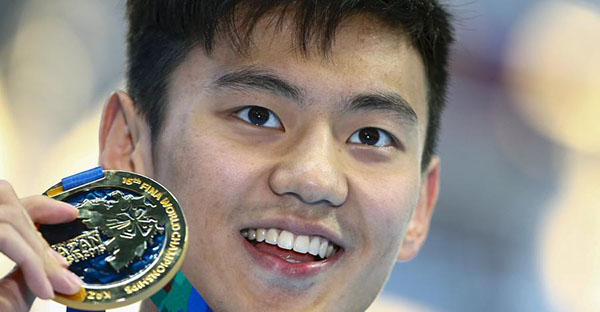 Ning Zetao of China poses with his gold medal after winning the men's 100m freestyle final at the Aquatics World Championships in Kazan, Russia, Aug 6, 2015. [Photo/Agencies]
BEIJING -- Chinese sports fans woke up Friday to an exciting news that swimming world championships debutante Ning Zetao grabbed the gold of the blue-ribbon men's 100m freestyle in 47.84 seconds.
As Ning described the win as 'crazy', the first in this distance for Asian swimmers since 1973, the news soon went viral on China's portal and social media.
"His sprint of the last five meters was killing me! I underestimated his capability," said Huang Jiajia from Zhejiang. "He is just at the golden age of 22. Go Ning, see you in Rio."
Ning, who already has a large legion of fans thanks to his good looks and politeness, is becoming more popular after proving he is much more than just appearance.
"I found that our swimmers are so polite and modest. I like them better and better. A big LIKE for Ning," said an internet user 'Go wherever you want' from Liaoning.
Ning's victory underlined China's rise in the men's pool, the sprint race in particular. Olympic and world champion Sun Yang has already showed domination in freestyle events, clinching men's 400m and 800m titles here.
China has made breakthrough in swimming in recent years. At the 2008 Beijing Olympic Games, Zhang Lin won the first Olympic swimming medal for Chinese male swimmers. At the 2009 Rome worlds, Zhang became the first Chinese man to claim a gold medal at world championships. At the 2012 London Games, Sun Yang won China's first Olympic gold in men's swimming. And in Kazan, Ning won the most important gold in pool for China.
"It's crazy!" Ning said right after he won the race.
Ning, a lieutenant in the Chinese navy, saluted the national flag during the medal ceremony. "I didn't expect the gold medal. I just want to say I'm Chinese," he said.
"Winning the gold is like a dream," said Ning, Asian record holder of the event. "I made it. And I show the world that Chinese men can also win the short distance swimming."