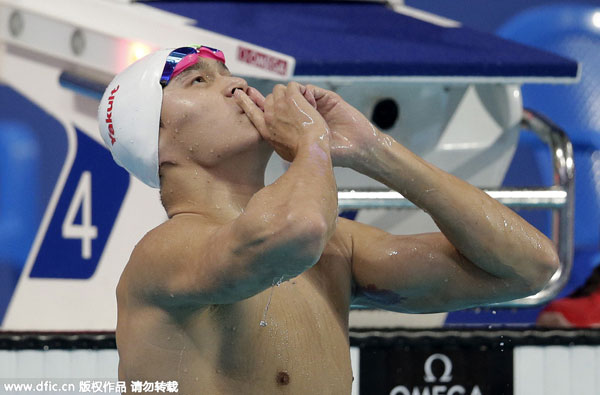 China's Sun Yang celebrates after winning the men's 400m freestyle final at the Swimming World Championships in Kazan, Russia, Sunday, Aug 2, 2015. [Photo/IC]

KAZAN - China's star swimmer Sun Yang proved that he is still the fastest man in the men' s 400-meter freestyle at the Kazan world championships here on Sunday.
The 23-year-old repeated his feat from the 2013 Barcelona worlds with a commanding swim, which saw him finish in an impressive time of 3:42.58, 1.17 seconds ahead of Britain' s James Guy, who led the first 300m of the final and touched in 3:43.75. Canada' s Ryan Cochrane came third in 3:44.59.
"It' s my best result in the two years," said Sun, who shed tears after winning the title for the third straight time at world championships. "It' s a difficult race. Guy was really a threat in the final and I put all my effort in the last 100m."
There had been lots of doubts in Sun's form before the worlds as the London Olympic champion had not produced persuading results in the recent year and his doping case which was revealed last September also made him under fire.
Sun had served a doping ban earlier in 2014 and it had not made public till last September. Sun had been barred from training in Australia and his Australian coach Denis Cotterell was not allowed to coach him.
"I went through a hard time and met a lot of difficulties," said Sun, who had proved his innocence. "But I overcame them with my coach Zhang Yadong and foreign coach Brain. We trained very hard in Australia, and all we did is to have good results in Kazan."
"I has been a swimmer for more than 10 years and I have some injuries," he added. "I need to deal with the injuries of my hand and shoulder after the world championships. My doctor told me to have surgery but I didn' t have time for that."
"I know that it will be harder and harder for me to keep top form as I turn older and older, but I will try my best," Sun said.
Sun aims high in Rio Olympics. "I want to break the 400m free world record at the Rio Games," said the confident Sun. "I know it will be a tough job as the old WR was set in 2009 with the help of fastskin swimsuit. But I want to give it a try. It is my next goal."
He targets in four titles at the Kazan worlds, besides the 400m free, he will also compete in the 200m, 800m and 1,500m free.
The swimming star said he was happy about Beijing's successful bid for the 2022 Winter Olympic Games.
"I am proud of my country and I believe China can hold a fantastic Winter Olympic Games in 2022, " he said.