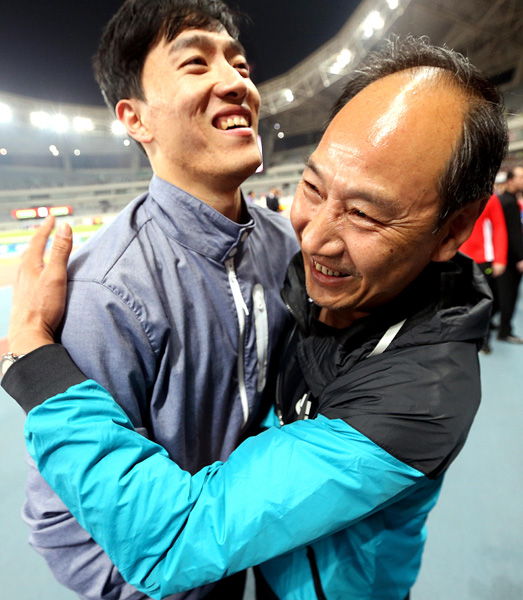 Liu Xiang hugs his coach Sun Haiping during a retirement ceremony held on the sideline of the IAAF Diamond League Shanghai meet on Sunday.[Photo/Xinhua]
Liu tried to keep the farewell as low-key as possible, choosing an uneventful date to wave goodbye to millions of fans on weibo until the retirement ceremony was announced on April 29.
The Shanghai native shot to fame when he won the 110m hurdles at the 2004 Athens Olympics, equalling Jackson's world record of 12.91 seconds.
Liu bettered the world record to 12.88 seconds in Lausanne in July 2006. And one year later, he won a world championship gold in Osaka, Japan to become the first male hurdler to own Olympic and world titles and the world record at the same time.
While Liu was conquering the 110m hurdles across the world, the shadow of injury crawled in and cost him dearly in his home Olympic Games in 2008.
In the first round heat in Beijing, Liu limped off the track with an aggravated Achilles tendon injury to the astonishment of a capacity Bird's Nest.
Four months later, he underwent a surgery in the United States and had four calcium deposits removed from his right foot.
Four years later, Liu's fate mysteriously repeated in a bad way. In London Olympics, Liu hopped on one foot to the finish line, kissed the hurdle and was wheelchaired off the track.
Just as his first withdrawal in Beijing, Liu, his team as well as the Chinese Athletics Association, were bombarded for concealing his injury.
And at the same time, many already felt that this could be Liu's last stop of his career.