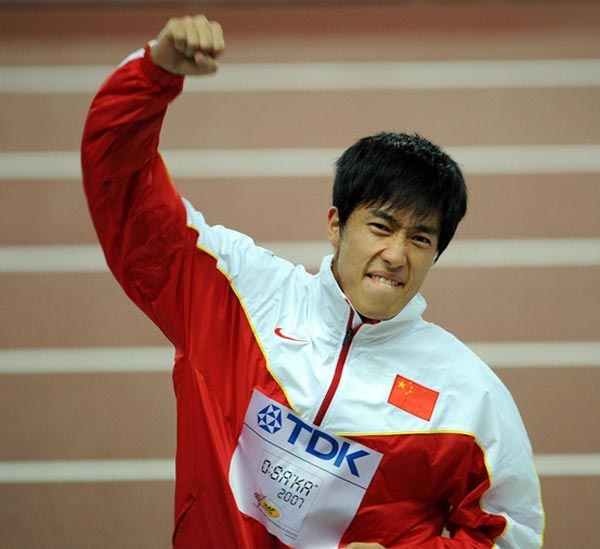 Gold medalist Liu Xiang celebrates on the podium during the medal ceremony for the men's 110m hurdles at the 11th IAAF World Athletics Championships in Osaka, Japan, Sept 1, 2007. [Photo/SIPA]
"Don't believe in such stereotypes that Asian athletes are incompetent against Westerners in athletic sprint events. I've proven (that Asians are competitive as well) with my action. Asia has me! China has me!"
- after winning the gold medal in the 110m hurdles in 12.91 seconds at the 2004 Athens Olympics
"I have to stay optimistic and I won't complain too much. I will pull myself together again because this is my character, that I never give up. I will show every doubter that I can still come back (to reach high level)."
- after withdrawing from the 2008 Beijing Olympics for Achilles tendon injury
"I hope I can make progress day by day. The next step for me is to start training on the track. Although I don't know if I can still make it or not, I will try my best to recover my strength."
- in November 2013 during his long rehabilitation from a recurrent Achilles tendon injury
"No I don't have a girlfriend right now though I will try to find one. To be honest, finding a girlfriend is really difficult for me. At least, it's harder than leaping over hurdles."
- at a press conference during the 2006 Doha Asian Games
"The organizing committee arranged a presidential suite for me. It's such a luxury accommodation treatment. But if I don't perform well this year, I think they will ask me to go back to a standard room next year."
- before the IAAF Lausanne Grand Prix in July 2007
"To continue racing (after serious injury) is my personal wish. As an athlete, I have to be honest to myself. How could I pretend that I'd already fully recovered and force myself to compete knowing that I would tear my Achilles tendon again?"
- of the doubts that he was forced to compete at the 2012 London Olympics by sponsors during the annual session of Chinese People's Political Consultative Conference in 2014