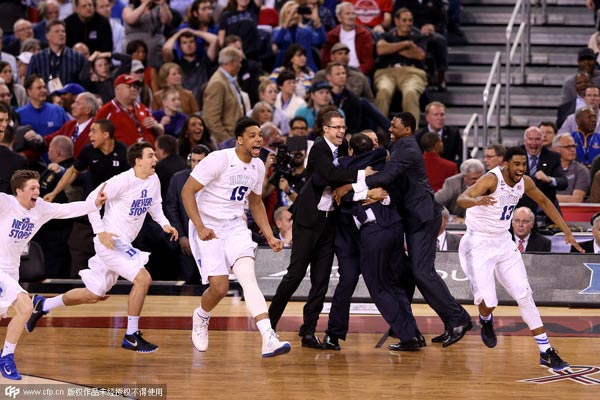 (From left to right) Sean Kelly (42), Nick Pagliuca (45), Jahlil Okafor (15), head coach Mike Krzyzewski and Matt Jones (13) of the Duke Blue Devils celebrate after defeating the Wisconsin Badgers during the NCAA men's final four national championship at Lucas Oil Stadium in Indianapolis, Indiana, on April 6, 2015. [Photo/CFP]
INDIANAPOLIS - Duke beat Wisconsin 68-63 thanks to two late basketballs from center Jahlil Okafor and a key 3-pointer from Tyus Jones, lifting its fifth national college basketball title on Monday.
Duke outscored Wisconsin by 14 points over the final 13 minutes to win the championship at Lucas Oil Stadium.
Okafor, the likely first pick in the NBA draft, got outplayed by Badgers star center Frank Kaminsky, but came through when the pressure was highest. He made two straight baskets over Kaminsky to turn a nine-point deficit into an eight-point lead with 1:22 left.
Jones nailed a three pointer that gave the Blue Devils the lead for good with four minutes left.
First-year Duke guards Jones and Grayson Allen scored 29 of Duke's 37 points in the second half while teammates Okafor and Justise Winslow battled foul trouble.
Okafor picked up his first foul in the opening minutes of the game and had four with more than nine minutes still left in regulation.
Duke coach Mike Krzyzewski now has five national championship titles, winning in 1991, 1992, 2001, 2010 and 2015, to rank second on the all-time college coaching list behind John Wooden, who has 10 national titles.
Wisconsin star center Kaminsky, who was named Most Outstanding Player of the Final Four tournament, paced the Wisconsin attack with 21 points and 12 rebounds and Nigel Hayes scored 13.