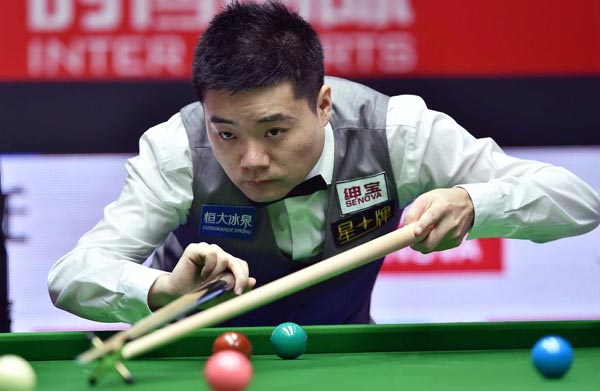 Ding Junhui plays against John Higgins in the quarterfinal of the 2015 World Snooker China Open in Beijing, April 3, 2015. [Photo/Xinhua]
BEIJING - Ding Junhui beat John Higgins 5-4 in the quarterfinal of 2015 World Snooker China Open on Friday.
After the 2-2 tie before the break, Ding hit a 105-point break to lead for the first time this evening. But Higgins soon took over the match by winning two straight frames. Ding then had a 68-point break to make it even 4-4.
In a breath-taking ninth frame, Ding started the game by leading 36-0 before Higgins surpassed 46-36. Ding successfully hit a black later but the cue ball dropped into the pocket.
Trailing by 53-36, Higgins decided to let Ding play and the latter hit an lucky red. Ding then missed an easy green but Higgins copied the tragedy, before the home favorite then wrapped up the match 5-4.
"I didn't expect he was so unlucky at the last moment," said Ding. "Luck did helped me to carry on tonight."
Ding will play against Gary Wilson in the semifinal, who defeated Barry Hawkins 5-3 in an other match.
Shaun Murphy was upset by Kurt Maflin 5-4 this afternoon to set up a semifinal match against Mark Serby. Serby, the world No 1, had a tough 5-4 victory over Robert Milkins.
As the top 16 ranked players will automatically qualify for the first round of the World Championship, which will start on April 18 in Sheffield, England, Milkins has to win Friday's match to secure one ticket for the World Championship, but now he has to play the qualifications.
"Yeah we mentioned it yesterday. Robert probably had that in his mind. I can't see why he can't qualify, If he does it he can be tough for anybody." said Serby.