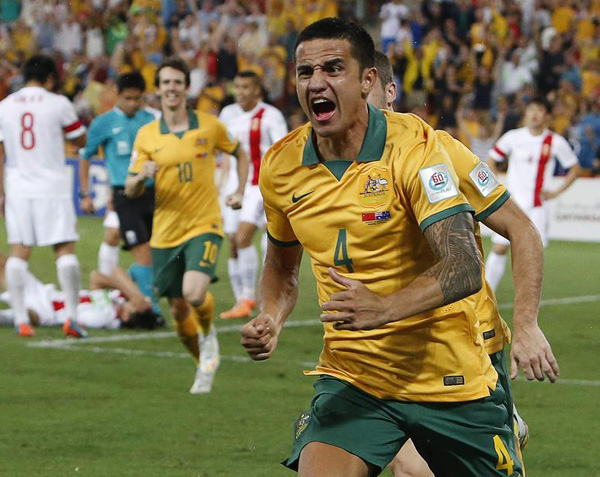 Australia's Tim Cahill celebrates his first goal during their Asian Cup quarterfinal soccer match against China at the Brisbane Stadium in Brisbane, January 22, 2015. [Photo/Agencies]
SYDNEY - Australian premiere football veteran Tim Cahill said on Tuesday to leave the New York Red Bulls and join Shanghai Shenhua in the Chinese Super League.
His decision came just three days after Australia triumphed in the Asian Cup.
His decision to leave the US Major League Soccer (MLS) surprised commenters as the 35-year-old attacking midfielder had recently received offers from England, Asia, the Middle East and Spain before announcing the move to China on Tuesday.
He was in career best form during the Asian Cup in Australia, arguably scoring the goal of the tournament with a stunning bicycle kick in the quarterfinal against China.
Cahill told Fox Sports that he had consulted widely with former teammates and coaches in the US before making his decision to side with the Chinese team.
While he had received offers from around the world, there were none from Australia.
He promised to reward Shanghai Shenhua with total commitment.
"I respect Australian football so much, but I've never have had an official offer in the last two months," he said.
"I'll make an impact in China on the pitch, I promise you.
"When I go somewhere I'll do it properly.
"I'm at an age where I want to give back to football as well as play at a high level."
Cahill has spent the majority of his career in the English Premier League with Liverpool club Everton, scoring 68 goals in 278 games.
He then joined the New York Red Bulls in 2012 at the age of 32.
"I've done the Premier League, I've done America," he said before leaving for China in New York. "New York was amazing for me, but China is a growing market in football."
"It's all about doing what I want to do as footballer and trying different leagues, and I think it's exciting."
Instead of winding down his career there as predicted by football analysts, Cahill again prospered and was named the team's Most Valuable Player in 2013.
Shanghai Shenhua had been linked with Cahill, and the Chinese team has a history of signing renowned veterans, including Premier League stars Nicolas Anelka and Didier Drogba.