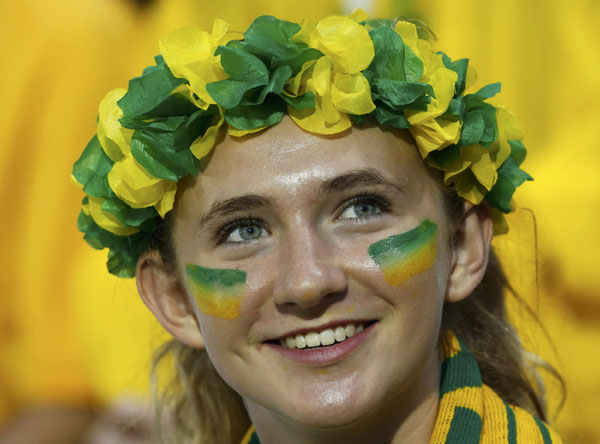 An Australia fan smiles before the start of their Asian Cup semi-final soccer match against UAE at the Newcastle Stadium in Newcastle Jan 27, 2015.[Photo/Agencies]
SYDNEY - Australian football coach Ange Postecoglou has called on the 80,000 home crowd to bring "the energy" needed to get Australia over the line in Saturday's Asian Cup final against South Korea.
Australia progressed to the final to be played in Sydney after beating UAE 2-0 in Tuesday's semi-final in Newcastle.
Postecoglou said the sell-out crowd at ANZ Stadium will be a major asset for the Socceroos (nickname for Australian team).
"It will make a difference for sure," he told reporters on Tuesday night. "To get into a final you put a lot of effort into it and again it will come down to moments in the game.
"If we have an 80,000 strong crowd behind us they can generate the kind of energy we need.
"It's fantastic. The Australian sporting public has really embraced the team, they've enjoyed the way we've played our football, and are really supporting the team.
"That's generated a real good vibe around and the players can feel it, hopefully that can continue on Saturday."