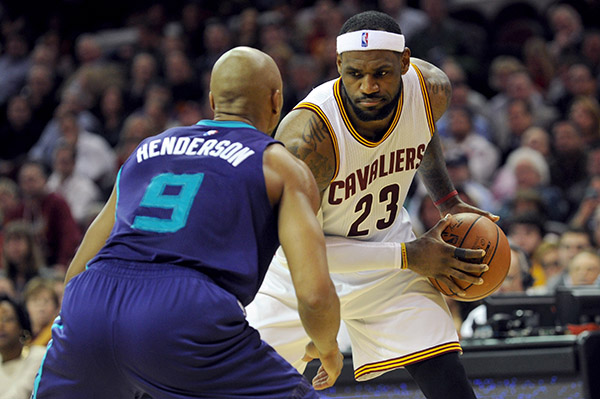 Cleveland Cavaliers forward LeBron James (23) works against Charlotte Hornets guard Gerald Henderson (9) during the fourth quarter at Quicken Loans Arena in Cleveland, Dec 15, 2014. The Cavs beat the Hornets 97-88. [Photo/Agencies, & Ken Blaze-USA TODAY Sports]
CLEVELAND - LeBron James scored 27 points with 13 assists, and Kevin Love added 22 points and 18 rebounds, as the Cleveland Cavaliers defeated the Charlotte Hornets 97-88 on Monday.
The Cavaliers jumped to a 21-0 lead, but the Hornets regrouped and got within two points early in the third quarter before the Cavaliers pulled away.
The Cavaliers ended the third on a 21-9 run. Kyrie Irving scored 16 points for the Cavaliers, who were coming off consecutive road losses to Oklahoma City and New Orleans after winning eight in a row.
Kemba Walker led Charlotte with 24 points while Al Jefferson added 14.
Boston's Kelly Olynyk scored a career-high 30 points to lead the Celtics to a 105-87 victory over the Philadelphia 76ers.
Avery Bradley had 15 points, and Brandon Bass and Jeff Green added 14 each for Boston (8-14), which ended a three-game losing streak.
Rookie Nerlens Noel had a career-high 19 points for the 76ers (2-22), who dropped to 0-13 at home this season. Philadelphia moved closer to the NBA mark for worst home start to a season, set in the 1993-94 season when the Mavericks began 0-19.
The Toronto Raptors downed the Orlando Magic 95-82 after Lou Williams scored 18 points and Kyle Lowry had 17.
Amir Johnson scored 11 points and Patrick Patterson had 10 for the Raptors, who improved to 11-1 this season against opponents with losing records. This was Toronto's third of six straight games against teams below .500.
Tobias Harris scored 18 points, Ben Gordon had 16, Nikola Vucevic had 13 and Victor Oladipo 12 for the Magic.
At Indianapolis, Rodney Stuckey scored 20 points and grabbed 10 rebounds to lead the Indiana Pacers over the Los Angeles Lakers 110-91.
Los Angeles shot 33 percent from the floor and trailed by 39 points during the game.
Atlanta's Al Horford scored 21 points, including a huge jump shot with just under a minute remaining, as the Hawks won for the 10th time in 11 games with a 93-86 victory over the Chicago Bulls, while Khris Middleton hit a 3-pointer at the buzzer to lead the Milwaukee Bucks past the Phoenix Suns 96-94.
Damian Lillard had 23 points and a career-high 10 rebounds as the Portland Trail Blazers downed the short-handed San Antonio Spurs 108-95, and the Clippers' Blake Griffin scored 18 points and DeAndre Jordan had 16 points and 15 rebounds as Los Angeles breezed over the Detroit Pistons 113-99.