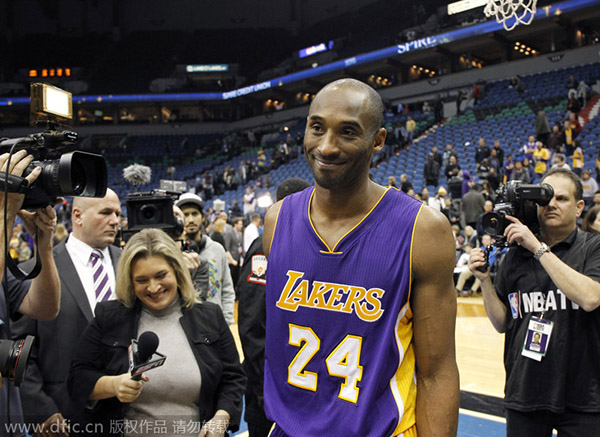 Los Angeles Lakers guard Kobe Bryant (24) smiles as he leaves the court after the Lakers beat the Minnesota Timberwolves 100-94 in an NBA basketball game in Minneapolis, Sunday, Dec. 14, 2014. Bryant passed Michael Jordan for third place on the NBA's scoring list during the second quarter of the game. [Photo/Ann Heisenfelt & IC]
MINNEAPOLIS - Los Angeles Lakers star Kobe Bryant passed Michael Jordan for third on the NBA's career scoring list Sunday in a 100-94 victory over the Minnesota Timberwolves.
Bryant entered the game needing nine points to pass the icon with whom he is often compared. He got the mark with two free throws with 5:24 to play in the second quarter.
"I'm just honored to be here, man, to still be playing," Bryant said. "I appreciate being able to play this long. Careers normally don't last this long. I really appreciate the opportunity to still be out there playing and performing and doing what I do."
Now only Kareem Abdul-Jabbar and Karl Malone have scored more points than Bryant.
"I congratulate Kobe on reaching this milestone," Jordan, the owner of the Charlotte Hornets, said in a statement released to The Associated Press. "He's obviously a great player, with a strong work ethic and has an equally strong passion for the game of basketball. I've enjoyed watching his game evolve over the years, and I look forward to seeing what he accomplishes next."
Bryant didn't break a record Sunday night. Abdul-Jabbar is still more than 6,000 points ahead of him and in no danger of being caught. But moving past Jordan was cause for celebration.
The two players have been linked for years and Bryant often mimicked Jordan from his earliest days in the league, from the way he pumped his fist after big shots to adopting the fade-away jumper as his career has progressed and even sprinkling in a little tongue-wagging on his drives to the bucket as a youth.
"He knows how much I've learned from him," Bryant said. "From the other legends, but him in particular."
The Timberwolves stopped the game, and a Lakers-heavy crowd gave Bryant a standing ovation as Wolves owner Glen Taylor - the NBA's chairman of the board - presented him with the game ball.
With a big smile on his face, Bryant received hugs from teammates and the Timberwolves, and waved to the crowd during the brief stoppage.
Bryant has been chasing Jordan for almost two decades now. He's still one title short of the six Jordan won with the Bulls, but has now caught Jordan in the game's defining individual statistic.
Bryant had 32,284 points when he took the floor against a Timberwolves team that includes 19-year-old rookies Andrew Wiggins and Zach LaVine, two players who were barely born when Bryant made his NBA debut in 1996.
He missed four of his first five field goals, but knocked down a 3-pointer midway through the second quarter to pull within two points. He nearly passed Jordan with one of his patented fall-away jumpers from the baseline, but it rimmed out and with 5:24 to play and 24 seconds on the shot clock, No. 24 stepped to the line and calmly swished two freebies to do it. He finished the night with 26 points and 32,310 for his career.
It took Bryant 1,269 games to reach the NBA's career scoring podium. Jordan amassed his 32,292 points in 1,039 regular-season games.
Jordan moved into third place in 2003, and the top of the NBA's scoring mountain had remained unchanged for nearly 12 years. Ever since Bryant really started to hit his stride as an elite scorer beginning with his fourth year in the league, he was widely considered the one to the record books would have to reserve a spot for.
"Just like we've never seen another player like Michael Jordan, we will never see another player like Kobe Bryant!" Lakers Hall of Famer Magic Johnson tweeted.
Jordan retired and came back twice, giving up prime years that cost him a shot at Abdul-Jabbar's record. Jordan also played three years of college while Bryant jumped straight to the pros and started racking up the points, albeit at a gradual rate.