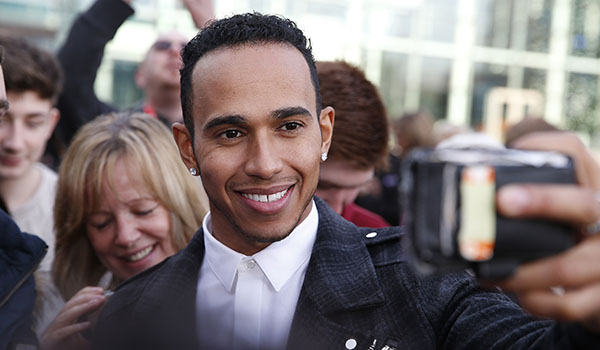 Formula One champion Lewis Hamilton takes a selfie photograph with fans during his visit to Media City in Salford, Manchester, northern England November 25, 2014. [Photo/Agencies]
ABU DHABI - Lewis Hamilton says a contract extension with Mercedes is almost a done deal now that he has got his second Formula One championship under his belt.
"We haven't discussed the nuances but...it really is pretty much a formality I would have thought," the 29-year-old told British reporters after the season-ending race in Abu Dhabi.
Hamilton is currently two years into a three-year deal and he and the team had deferred renewal talks until after the championship was over to avoid needless distraction.
German team mate Nico Rosberg, the rival he beat to the title on Sunday at Abu Dhabi's Yas Marina circuit, agreed a new deal earlier this year. Hamilton's signature would keep the duel between them going well beyond 2016.
Mercedes motorsport head Toto Wolff had said previously that he would open talks on Monday but he spoke those words well before Sunday's post-race party.
"Definitely for me it would not be the best thing for me to do," the Austrian grinned, looking somewhat worse for wear on the morning after.
Some media reports have already talked of Hamilton landing a possible five year deal, worth a potential 100 million pounds ($156.96 million), to become one of Britain's highest-paid athletes.
The combined earnings of the driver and his popstar girlfriend Nicole Scherzinger have also drawn comparisons with David and Victoria Beckham, even if Hamilton indicated he had no immediate marriage plans.
"We are really on a great journey and Lewis is a super important member (of the team) and we want to keep it together," said Wolff.
"We're going to reflect for a couple of days, go back to the factory and then start those discussions in the next weeks."
Hamilton recognised that driving fast, rather than speedy contract negotiations, was what he did best and so nothing was decided on how talks would proceed but he did not expect them to be difficult.
"The contract I currently have is a great contract. I'm going to take some time to try and understand how I can help the team more, and how the team can get more, and how the team can utilise me more," he said.
"Ultimately I think not a huge amount will change." (1 US dollar = 0.6371 British pound)