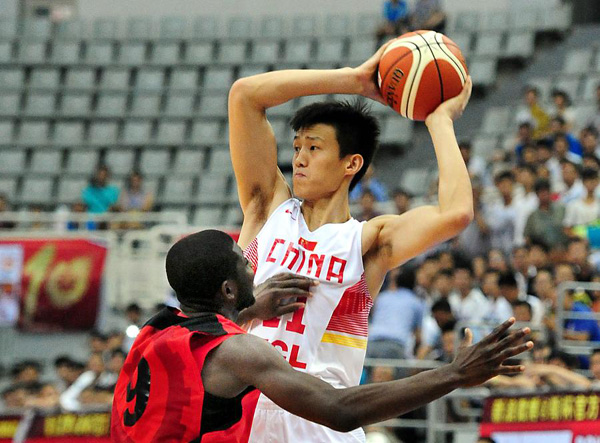 Zhou Peng, top, of China tries to pass the ball during the 2014 Stankovic Continental Cup game against Angola in Luoyang, Central China's Henan province, Aug 4, 2014.  [Photo/Xinhua]
LUOYANG, China - China lost just one game in the 2014 Stankovic Continental Cup, but it was enough to spoil their bid for the title.
In their last game at the round-robin tournament, China suffered an 82-74 loss to Slovenia, while Russia had a comfortable win over Angola, which resulted in a complex situation.
China, Slovenia and Russia all had a 2-1 record. In addition, the three teams also had a 1-1 in matches among them. Then, point advantage was the next to count, which rated China the last.
China finished the third place at last after a 74-58 rout of Angola in 2014 Stankovic Continental Cup after leading by as many as 20 points with 3:53 remaining, a comfortable lead enough to seal the win.
Zhao Tailong finished with game-high 18 points. Zhou Peng helped with 15 points.
"We had a wonderful start, but the opponents posed some problems in the second period, which was a good opportunity for us to make adjustments. We've learned a lot through these 10 games (Sino-European Basketball Championship and Stankovic Continental Cup)," said Chinese head coach Gong Luming.
Although some fans feel disppointed, for the Chinese national basketball team composed mostly of young players, nothing is more precious than experience.
Among the 15 Chinese players called up for Stankovic Continental Cup, Liu Xiaoyu and Zhou Peng are the only two who were born before 1990. For such a young Chinese team that are without stars Zhu Fangyu, Wang Shipeng, Yi Jianlian and Sun Yue, lack of experience is the biggest problem. So the most talked word by head coach Gong Luming during this tournament is "in terms of experience, it (the tournament) is a good test".
For the Chinese basketball team, the Asian Games in Incheon, South Korea is the top priority of this year. After a humiliating defeat in the Asian Basketball Championship last month, they are desperate for self-redemption.
However, if China's performance at the Stankovic Continental Cup is anything to go by, they have little chance of claiming the title in Incheon. In fact, gaining experience one game after another is of more importance than the results at this stage.