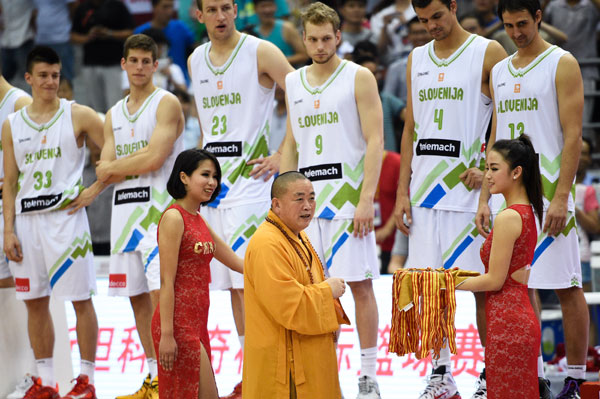 Shi Yongxin, abbot of the Shaolin Temple, prepares to award medals to players from Slovenia, runner-up in the Stankovic Continental Cup, Aug 4, 2014. [Photo provided to China Daily]
LUOYANG - Thanks to a strong rally in the fourth quarter, Russia edged past Slovenia 73-72 to claim the title of 2014 Stankovic Continental Cup in Luoyang, Central China's Henan province on Monday.
Russia hit eight of 20 on the three-pointer shooting line as Aleksandr Gudumak finished with team-high 13 points. Pavel Spiridonov and Victor Zaryazhko added 12 apiece.
Zaryazhko made four crucial free throws with less than one minute to go as Russia earned a spirited come-from-behind victory.
Zoran Dragic contributed game-high 17 points for Slovenia. Teammates Klemen Prepelic and Jaka Klobucar helped with 11 apiece.
Two teams went scoreless in almost three minutes after the tip-off, before Aleksandr Gudumak had a spectacular layup. Slovenia led by 15-13 after the first quarter.
After trailing by five points into halftime, Russia heated up in the third quarter, especially behind the arc. They tied the score at 50-all on Maksim Sakharov's three, before the Slovenians responded with five points in a row.
In an earlier match on Monday, hosts China crushed Angola 74-58 to finish the third place.
Zhou Peng became the only Chinese player to be selected into the Best Five of the tournament. The Most Valuable Player Award went to Gudumak.