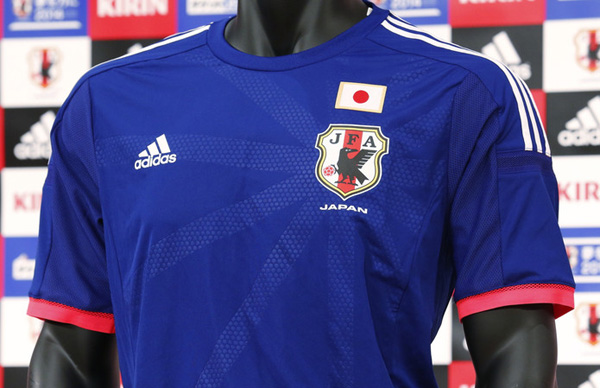 A uniform for Japan's national football team is unveiled in Chiba, Japan, Nov 11, 2013. [Photo/IC]
The Japanese Olympic Committee has asked its athletes participating in the Nanjing Youth Olympic Games (YOG) to wear casual clothes outside of the event to avoid exposing their nationality, the Beijing Youth Daily reported, citing Japanese media.
The 2014 Summer Youth Olympics is scheduled to take place in China's Nanjing from Aug 16 to Aug 28. Japan will send athletes to compete in about 16 sporting events.
Yosuke Fujiwara, head of the Japanese delegation, said at a meeting in Tokyo on Sunday, that considering the tense relations between China and Japan, he hoped the delegation members, athletes in particular, would not wear jerseys bearing the word "Japan" or the Japanese flag.
Fujiwara said he also hoped the young athletes would contribute to China-Japan friendship through the games.
Nanjing is a sensitive site for China-Japan relations because of the Nanjing Massacre committed by the Japanese Imperial Army in 1937, causing 300,000 deaths.
The Abe government's attempts to justify Japan's military aggression, and the Diaoyu Island issue, have added further tension to bilateral relations.