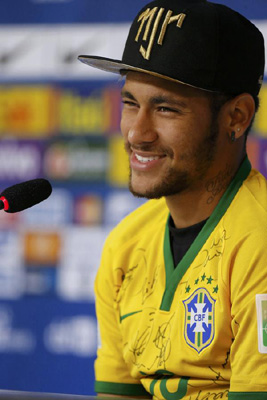 Injured Brazilian national soccer team player Neymar speaks during a news conference in Teresopolis, near Rio de Janeiro, July 10, 2014. [Photo/Agencies]
TERESOPOLIS - It may be anathema to most Brazilians, but Neymar has expressed his wish for Argentina to be World Cup champions on Sunday.
Brazil's neighbors and bitter rivals will bid to win football's ultimate prize for a third time against Germany at Rio's Maracana stadium on Sunday.
Neymar said his friendship with Barcelona teammates Lionel Messi and Javier Mascherano meant he would be hoping for an Argentina victory.
"Of course anybody would be shocked at the fact a Brazilian is supporting Argentina," Neymar said during a press conference.
"But I'm not supporting Argentina. I'm supporting two teammates and a person who I admire even more than before for being beside him every day.
"He [Messi] is a player that has always been somebody who I admired from afar because of his qualities on the pitch. Now I admire him as a person and I see that even when he trains he is special. That's why I will always want him to do well.
"If you want to say that I am supporting Messi football club, that's OK. I am supporting him. I joked with him that I wanted Brazil to play Argentina in the final but unfortunately we didn't get there. I wish him the best of luck, and to Mascherano too. They are my teammates and great people. They deserve to win for everything that they have done in football."
Neymar's appearance at Brazil's training base in Teresopolis, 100km north of Rio de Janeiro, came as the Selecao prepared for Saturday's match for third place against the Netherlands in Brasilia.
It was the 22-year-old's first open press conference since suffering a tournament-ending back injury in Brazil's 2-1 quarterfinal defeat of Colombia.
Neymar was presented with a Brazil shirt signed by each of his Selecao teammates, which he wore to the press conference.
He questioned the intentions of Colombia defender Juan Zuniga, who has been widely condemned in Brazil for the tackle that led to Neymar's injury.
"I won't say he came to injure me, I don't know what was going on in his head but everyone who understands football can see that it wasn't a normal challenge," Neymar said of Zuniga's knee to his back.
"When you want to foul someone to stop a game or stop a counter-attack, you kick their ankles, you push, you pull, but the way the ball was falling, it wasn't a normal game situation.
"Many of you say I am a diver and I don't care if you say that. I can defend myself when I can see what's going on around me. But I can't defend myself from what comes from behind. If it had been another two centimeters I could be in a wheelchair today."
Neymar revealed Zuniga called him the next day to apologize but did not say whether he forgave his opponent.
"I don't hate him, I don't hold a grudge," Neymar said. "But I don't feel anything."