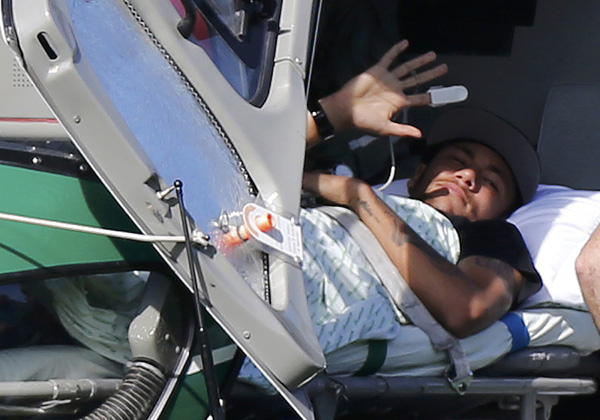 Injured Brazilian national soccer team player Neymar waves as he waits to be airlifted home from Brazil's training camp inTeresopolis, near Rio de Janeiro, July 5, 2014.  [Photo/Agencies]
BELO HORIZONTE - Neymar has reportedly told family and friends that he wants to play in the World Cup final, should Brazil defeat Germany in Tuesday's semifinal.
But Selecao medical staff are set to veto the 22-year-old's attempt at a miraculous return from injury.
The Barcelona forward suffered a fractured vertebra in Brazil's 2-1 victory over Colombia in Fortaleza on Friday.
Brazil's team doctor Jose Luiz Runco said the injury normally required a recovery period of three to six weeks.
However according to Brazilian newspaper Folha de S. Paulo Neymar has expressed a wish to return for the tournament decider on July 13 in the event Brazil advances.
"Neymar says that he is feeling less pain and for that reason he thinks he can recuperate in one week," the newspaper said.
"Medical staff concede the injury isn't so serious but say there is no way the fracture can heal in that period."
Neymar has left Brazil's training base in Teresopolis, north of Rio de Janeiro, to recover with his family in the Brazilian port city of Santos.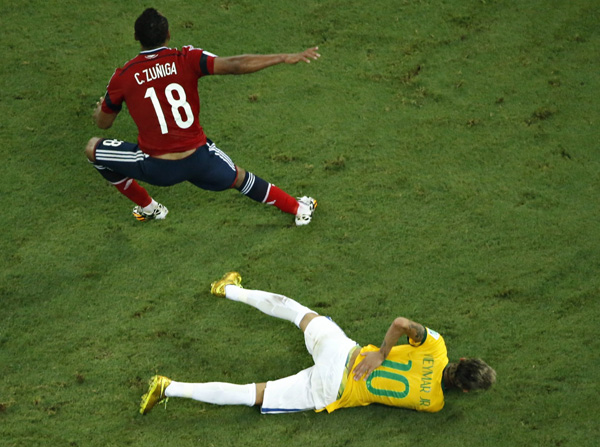 Brazil's Neymar holds his back after being challenged by Colombia's Camilo Zuniga during their 2014 World Cup quarter-final match at the Castelao arena in Fortaleza July 4, 2014. Brazil's forward Neymar has been ruled out of the World Cup after fracturing his vertebrae in the closing stage of the 2-1 quarter-final win over Colombia on Friday, his team said.  [Photo/Agencies]