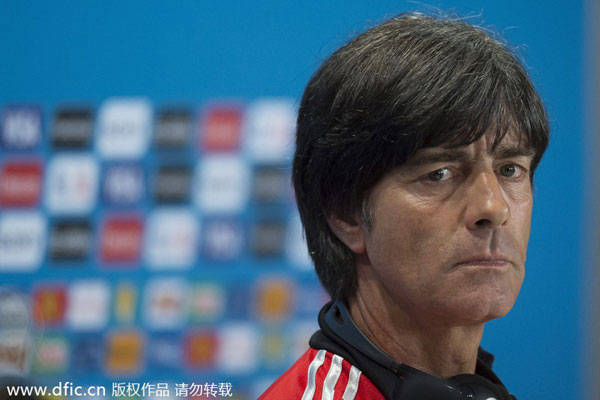 Germany's national soccer team coach Joachim Loew attends a press conference on July 7, 2014. [Photo/IC] 
BERLIN -- Some years ago not many would have bet on a man that was known as a solid and good coach. Away from the so-called big boys in the coaching circle, Joachim Loew was underestimated by many.
The 54-year old, generally known by his nickname of "Jogi", was respected as a nice guy but he was not what one would call a winner. If he manages to win the 2014 World Cup, his image - not only in Germany - would change overnight as he would finally be the one to have fulfilled the deepest desires of German football - to win a major title after 18 years of hurt. Before it happens, he has to beat World Cup hosts Brazil in the semi-final this coming Tuesday.
There haven't been many duels between Germany and Brazil that have caught the world's attention as most of the 21 matches were friendlies. For the record there have been 12 wins for Brazil, 4 for Germany and five draws but it doesn't help one little bit in determining who will be the favorites for the showdown on Tuesday. All three competitive games were won by Brazil - 1999 Confed-Cup (4-0), 2005 Confed-Cup semi-final (3-2) and the 2002 World-Cup final (2-0). The last German win (3-2) came in a friendly in 2011.
Loew is the most successful German coach as far as his game record is concerned. The semi-final against Brazil is his 111th game (75 wins/20 draws/15 defeats) at the helm. But despite reaching the last four semi-finals at major tournaments, he lacks a title and is therefore battling for due recognition. At the World Cup in Brazil, he has to prove that he can win titles and Germany can get over its "trauma" of losing the crunch games in the semis and final.
Loew's rise started in 2004 when he was appointed as assistant to Juergen Klinsmann who he replaced as the head coach in 2006 after the current Team USA coach stepped down. Call it a second chance as Loew knows what it is like to being given the sack. When the German team was getting blown away by Brazil in Yokohama in the 2002 final, Loew was on a journey into the unknown. In 2002, his Austrian club FC Tirol went bankrupt; he had been without success at the German second division side Karlsruher SC (2000) and was sacked at Turkey's Adanaspor (2001). The Austrian club Austria Vienna (2003-2004) seemed to be his last chance to survive as a coach after a year of unemployment. He failed or better put he was given the boot at Austria's top club.
Since then he has worked hard to develop Germany's national team but he is still not a people's hero. The German media in particular look at him with a certain amount of mistrust. For the 2014 World Cup he changed the coordinates of German football from a spectacular style to a result- oriented game to end all discussions. He prefers a narrow 1-0 win to a spectacular 4-3. He chose a squad of young but experienced players including all Bayern Munich pro's that have won major club titles recently which are the most dominating fraction in Germany's team.
"The 2014 World Cup will be won by a clever coach," said Germany midfielder Bastian Schweinsteiger. Was he talking about the man in charge of the Germany's national team? Schweinsteiger's statement reflects Loew's new style perfectly. From that perspective the Brazil tournament is Loew's hardest task so far.
As usual he is keeping his starting eleven a closely guarded secret line up to surprise both the Brazil opponents and his fellow countrymen. "We think about every game as a new start. We do what is needed to win," Loew said.
So far Loew and his team were able to send signs that suggest they are capable of rising to the challenge. The 2014 German style looks like the one that took them to the 2002 final against Brazil - only this time they have to go one better.