Bora Milutinovic, the coach that led China's national football team the only time it qualified for the World Cup, said the key for China's football team to get stronger is to have more people participate in this sport and enable them to compete with teams from around the world more often.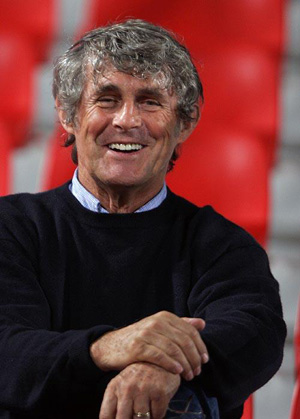 File photo of Bora Milutinovic
"China is a huge country with a large population and there are indeed many enthusiastic football fans, but you have to realize that there are not so many people playing football. Such a situation makes it difficult to select enough good players for the national team," Milutinovic – known in China as Milu - told China Daily during an interview in Sao Paulo, Brazil, on June 21.
China qualified for the first time for the 2002 FIFA World Cup on October 18, 2001, after 44 years of failed attempts.
"I have no secret for that because I simply did what I always do," said Milu, who is the only person in history to have led five national teams into the World Cup. "I had an excellent team, good Chinese coaches and good support then. Entering the World Cup is the combination of many elements."
Under Milu's coaching, the Chinese team achieved 12 victories, one tie and one defeat in the qualifying matches of the 2002 World Cup. Though the team failed to score any goal during the actual event, it is still the best record in China's football history.
"I am sorry that we did not make a goal in that World Cup. We could have, but our important player Sun Jihai was badly injured. I am really sorry about it," said Milu.
Chinese President Xi Jinping mentioned in a speech during his official visit to Mexico in 2013 that China only managed to qualify for the World Cup once - when it was led by Milu who also used to lead Mexico's national team.
"I have to say that these words deeply touched me," said Milu, "I never expected President Xi can say something like that."
During his visit to Germany in 2014, President Xi, who calls himself "a football fan", proposed three goals for the future of football in China: Qualifying for the World Cup again, hosting a World Cup and winning a championship.
"If there is one country I like, it is China. So whenever China needs me, I will always be ready to help," Milu added
It has been 12 years since Milu led a Chinese team. "I don't know why, but somehow China's team members today are not confident with themselves enough," said Milu. "Like I always said - attitude is everything. You cannot achieve that goal if you don't believe in yourself."
Milu visited China for the first time in 1977 during a sports event between China and Mexico. "I have to say I learned how to coach in China in 1977. China was so different then and it makes me feel even closer with it today because I know its past."
The whole country is yearning for a breakthrough in football, and many Chinese companies and associations are building football schools as a way to foster a new generation of talented football players.
Guangzhou Evergrande Football Club,supported by Evergrande Real Estate Group, invested about $160 million in 2013 to launch its own football school with more than 10,000 students. Luneng Group Co. from Shandong province, also built a football school ten years ago and is now one of the largest football schools in China.
"Such football schools can actually help. But the people who train the students must be experienced enough. The coaches need to be good at discovering the potential of their students, which is very important," said Milu.
He said young players also need to compete more with the world's professional teams - not only during the World Cup - because it is the best way for them to keep pace with the rest of the world.
"They might be beaten the first time - but they will be much better next time. That's how they can learn," Milu said.
He was invited to the 2014 FIFA World Cup as an advisor of the Qatar Football Association which will host the event in 2022.
"It is amazing because Qatar is a small country but will host such a large event as the World Cup. I hope to see the Chinese team in the game then," said Milu.