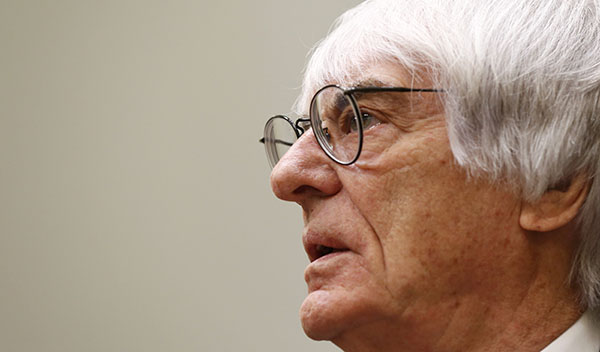 Formula One chief executive Bernie Ecclestone arrives in court in Munich April 24, 2014. Ecclestone went on trial for bribery in Germany on Thursday in a case that could see the Briton's long dominance of the motor sport ended by a jail sentence of up to 10 years. Prosecutors in Munich have charged Ecclestone, 83, with bribing jailed German banker Gerhard Gribkowsky to smooth the sale eight years ago of a stake in Formula One to private equity firm CVC. Ecclestone denies wrongdoing and says he will fight to clear his name. [Photo/Agencies]
MUNICH - Formula One boss Bernie Ecclestone went on trial Thursday in a bribery case that could threaten the 83-year-old's grip on the sport.
He is accused of bribery and incitement to breach of trust, and could face up to 10 years in prison if convicted. The charges involve a $44 million payment to banker Gerhard Gribkowsky, who is serving an 8 year sentence for taking the money.
Prosecutors allege the payment was meant to facilitate the sale of Munich-based bank Bayern LB's stake in Formula One to a buyer of Ecclestone's liking. Gribkowsky was in charge of selling that 47 percent stake in F1 in 2005.
Ecclestone has denied wrongdoing and said he was "shaken down."
Ecclestone testified during Gribkowsky's trial in 2011, and Gribkowsky is expected to be the main witness during Ecclestone's trial, which is scheduled to last until Sept. 16.
Gribkowsky was found guilty of corruption, tax evasion and breach of trust in a trial led by the same judge who is hearing Ecclestone's case, Peter Noll.
Ecclestone has stepped down temporarily as a director of F1's holding company pending the outcome of the trial, though he continues to manage the sport's commercial operations on behalf of investment fund CVC Capital Partners, which has a controlling stake in the web of companies which run the commercial side of the sport.
CVC senior management had previously warned that Ecclestone would not be about to remain in charge if he was found guilty, even if he avoids a prison sentence.