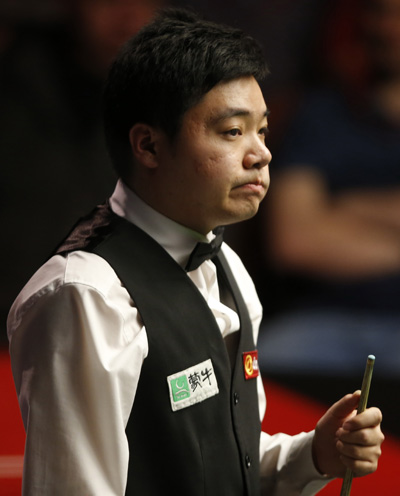 China's Ding Junhui reacts during the first round of the snooker World Championship in Sheffield April 21, 2014.
  [Photo/Agencies]
SHEFFIELD - World No. 2 Ding Junhui of China was stunned by English qualifier Michael Wasley 10-9 at the first round of the snooker World Championship on Monday.
Ding, who won a record-equalling five ranking titles, led 6-3 after Sunday's first session and was on the brink of victory at 9-8 in the afternoon when the match was pulled off.
Both players were forced to wait four hours before returning to the arena. Wasley quickly grasped the initiative with a brilliant break of 103 to force the decider.
The last frame took 40 minutes and both players had chances. It was world 73rd-ranked Wasley that finally potted the pink to bring the Crucible crowd to its feet.
It was the third time for Ding to fall in the first round of the World Championship after 2007 and 2012.
"I perhaps have not reached the level that could win me the world champion," said an upset Ding, whose best performance at Crucible was last four finish in 2011.
Ding said: "I had many chances but I didn't take them. Sometimes the cushions bounced and took me out of position, which kills me and my game and costs me the frame.
"I should have won more frames but he played brilliantly. I feel like playing him was like playing Judd Trump in 2011, great potting and great break-building. He's very good under pressure - a good player.
"I was a bit surprised he played so well. In the first session he didn't play like that in the last few frames. He made a big break to come back to 9-9. I had some bad luck in the last frame but I tried the best I could.
"Nearly every time I win a tournament, the next one I lose in the first round. Maybe I just win too much!"
Wasley, playing his second season on the main tour, has never previously been beyond the last 32 of a ranking event.
"I feel great, I managed to hold my nerve in the end," said Wasley. "I was really nervous but I managed to put that to the back of my mind, I knew I had a match to win and it was in my hands. I'm just glad I held it together.
"Coming out playing one of the favorites of the tournament and someone who's had such a great season and dominated, I was really pleased to be 9-9 and in with a chance to win. I wouldn't be playing the sport if I didn't think I could beat anybody and I felt like I adapted to the Crucible straight away - I could just get down to business and on to the match.
"It will take a good night's sleep to get over it. The crowd were great, they really brought me along and it's great playing in front of them performing - I just want to do it all again tomorrow.
"Throughout qualifying I thought I played really solid, I think I upped my level yesterday and not just today. Coming into the session 6-3 down I knew what I had to do to try and win it. I knew Ding was coming into this with a lot of pressure being one of the favorites, and I just had to try and capitalise on that which I did.
"It's been amazing, you only dream of playing in places like this and it's taken a lot of hard work and support from everybody. It's all coming together now. I've got a big taste for it."