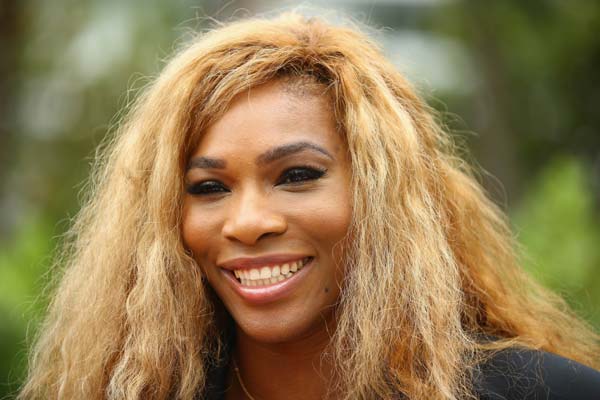 Serena Williams speaks to the media ahead of the Sony Open on Tuesdya in Biscayne, Florida.
Serena Williams is a daunting opponent no matter the surface or tournament, but at the Sony Open played near the comforts of her Miami home, she has practically set up a second residence in the winner's circle.
Williams, who lives an hour's drive from the Tennis Center at Crandon Park, site of the Sony Open for the next two weeks, is a six-time winner in Miami. That is more wins than she has at any other tournament and one better than her five US Open, Wimbledon and Australian Open Grand Slam victories.
In the 12 years since Williams first claimed the crown in 2002 she has taken the trophy home 50 percent of the time and is favored to add a seventh to her collection when the final is decided on March 29.
A relaxed Williams certainly looked right at home as she worked her way through a series of pre-tournament interviews at a posh Key Biscayne beachside resort on Tuesday, stealing the spotlight from some of the other assembled tennis glitterati, including Maria Sharapova and Australian Open champion Li Na.
"I have been waiting on this for a while; it feels good to be back here," the defending champion and world No 1 told a gathering of media.
"It is home, it feels like home. I drive just an hour, so it is great.
"I train here so it is easier to anticipate the wind and the heat and all the extra elements."
Another title Williams can lay claim to is the Queen of South Beach.
Already part owner of the National Football League's Miami Dolphins, Williams hinted she could add to her sporting empire saying, "anything is possible" when asked if she was open to getting involved with David Beckham and his efforts to bring a Major League Soccer franchise to Miami.
But it is on the court where Williams does most of her business, and in Miami it is close to a tennis monopoly.
At 32, Williams is one of oldest players in the women's draw yet remains the sport's dominant force with retirement nowhere in sight.
Miami will be her fourth event of the season and the 17-time Grand Slam winner claimed her 58th career title after opening the 2014 campaign with a victory in Brisbane.
"There is a tremendous amount of pressure when you step onto the court," said Williams. "It is bigger news to lose than it is to win.
"But I don't look at it as pressure. Billie Jean King always told me pressure is privilege.
"The only time it becomes a little boring is the training part, but I know there is a bigger picture.
"I must really love the competition because I keep going and I don't see any end yet."