Local companies encouraged to be more dynamic and imaginative in looking abroad
Foshan in southern China's Guangdong province is pushing its real economy to go global, on the way to constructing an intelligent international manufacturing center, local officials said.
"Local companies should transform from participants in the industrial chain to leaders, from followers of standards in technologies to become pioneers, and from manufacturers to innovators of self-owned and international brands," said Lu Yi, Party chief of Foshan.
From January to June, total overseas direct investment in Foshan reached about $8.5 billion, fl owing from about 310 companies or institutes, statistics from the city government show.
That represents a huge increase from investment levels of $3.45 billion from 2012 to 2016.
More local companies followed different paths in working with international investors including mergers and acquisitions, exploration of international markets, as well as construction and operation of overseas industrial parks, Lu said.
Foshan-based home appliances giant Midea, home building materials producer China Lesso Group and Guangdong Yizumi Precision Machinery, an injection molding and die casting machine-maker, have all made big moves to go global in recent years.
Their experiences have provided an example for others to learn from, Lu added.
Yizumi's German research center was set up last month, where engineers and experts will be hired to help to explore manufacturing of light auto parts, said General Manager Zhen Ronghui.
The company bought the intellectual property of the United States-based HPM and established technical service centers in more than 60 countries and regions in the world.
Its Indian factory went into operation in June and another new factory started in October, he said.
Foshan-based China Lesso, with a history spanning more than 30 years, was listed in Hong Kong as a major plastics piping producer.
It established a global online-to-offline sales platform in November last year, based on its production facilities, storage and logistics systems and shops in about 50 countries, said Zuo Manlun, president of the company.
Chinese home building materials companies can link with foreign purchasers through the platform with inspections, translations, legal and financial services provided by Lesso, he said.
The project could point the way forward for local companies to enter countries taking part in the Belt and Road Initiative, said Zhang Kaiji, former director of the bureau of commerce in Foshan.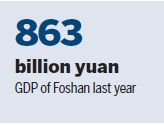 Zuo added that his company also plans to build 13 building materials shopping centers in countries, including Australia, the US and Canada in five years, as part of its large-scale global chain project.
Lu said some private companies had made full use of the technologies and resources of others through mergers and acquisitions, and in return begun producing in the local market to cut costs, which was very efficient.
The GDP of Foshan grew from 670.9 billion yuan ($103.4 billion) in 2012 to 863 billion yuan in 2016, achieving an average annual growth rate of 8.6 percent, and ranking No 15 among Chinese cities, according to the Foshan government.
Midea and real estate company Country Garden were enrolled in the Fortune Global 500 list of the biggest companies in 2016.
And five local enterprises were among China's top 500 private companies, the government said.
To encourage local companies to go global, it allocated development funds.
In addition, official red tape was relaxed and companies can now complete applications for international trade at one office. An online channel for customs clearance is also accessible, the government said.
Zhu Wei, mayor of Foshan, said promoting the real economy to go global can help to promote the development of local brands, transform and upgrade the manufacturing industry, and lead to the construction of an open economy.
However, Zhu said, challenges still remained and M&A of advanced technologies and high-end brands are not enough.
"The related legal and management systems needed to be further improved." Lu said plans were being formulated. "In the future, the city will focus on introducing more technological innovative teams, high-level professionals, advanced technologies and modern management philosophy, to conform to the country's policies."
In addition, more breakthroughs in core technology were expected to play a role in setting standards and forming a flexible business environment, he added.
In 2017, Foshan is expected to reduce costs for local companies by 10 billion yuan.
It will also pour more than 500 million yuan next year into attracting high-skilled staff, he said.
"We will make Foshan manufacturing stronger through exporting local brands, technologies and services, and enlarging their operations in the global market," he said.
Design, logistics services, quality detection, marketing and supply chain management also needed to be improved to develop made-in-Foshan brands, he added.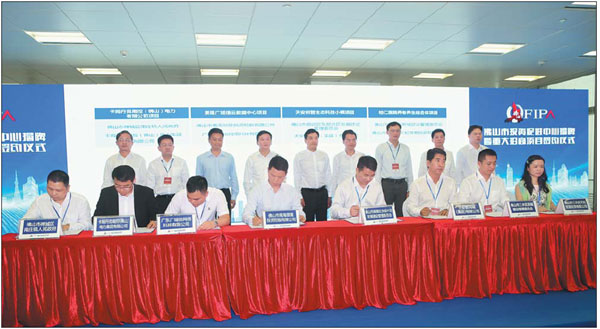 Government officials and representatives from local companies signed investment agreements in Foshan, Guangdong province.Photos provided to China Daily
(China Daily 12/07/2017 page24)