Companies in Foshan's Shunde district are accelerating their internationalization process by building technology and innovation centers overseas.
The Californian city of San Jose, known as the "heart of Silicon Valley", is home to a renowned group of high-tech giants including Apple, Intel and Google.
Midea Group, the leading electrical appliance manufacturer founded in Shunde in 1968, joined them this year by establishing a technology center there.
The inaugural ceremony of the Midea Emerging Technology Center was held in April.
The new facility, which has more than 930 square meters of floor space, will mainly focus on artificial intelligence, robotics, chips, sensors and other cutting-edge technologies. Midea plans to invest $250 million to support its innovation center in the next five years.
The facility currently has a team of 30 researchers led by Wang Dongyan, the first senior executive hired by Midea in Silicon Valley.
Wang, general manager of the center, is a Silicon Valley veteran with nearly 20 years of work experience at a number of international technology companies. Midea is the first Chinese company he has ever worked for.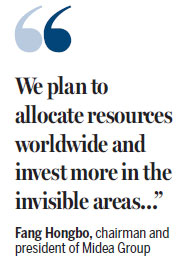 Wang said the center had a rich choice of AI applications to explore, including computer vision, voice and natural language processing and analysis systems.
"It applies them to the fields of intelligent home appliances, manufacturing and robotics, as well as in business operations such as advertising, retail and supply chains," Wang said.
"It is a historic mission and opportunity, and I can contribute my years of AI-related work experience to the research and development of millions of smart devices and robots."
To date, the center has developed two types of intelligent household appliances and made several technological breakthroughs in the field.
The center is the second of its kind for Midea in the United States, after the Midea America Research Center was launched in January in Louisville, Kentucky.
Midea has established 17 research and development centers across the world. "We plan to allocate resources worldwide and invest more in the invisible areas - emerging sectors with potential markets - in the future," said Fang Hongbo, chairman and president of Midea Group.
Midea's acquisition of Germany's Kuka early this year is expected to inject new impetus into the Chinese company's innovation system.
A leading supplier of intelligent robotics and automation solutions, Kuka is working directly with Midea in two areas. One is to provide industrial robots to Midea to increase its manufacturing efficiency, and the other is to develop robots for households and medical services together with Midea.
Another Shunde firm, Yizumi Precision Machinery, said it plans to establish a research center at the Institute of Plastics Processing at RWTH Aachen University in Germany.
The institute is the world's leading research and training institute in the field of plastics technology. Locating projects there, Yizumi expects to follow the latest development trends and learn more about cutting-edge technologies.
Hans Wobbe, Yizumi's chief strategy officer, said the first reform he planned to make was to improve the company's product quality, as internationally recognized quality was of great significance for the company's internationalization process.
Wobbe added that the company also needed to convince its international customers that it was capable of carrying out innovations in the new research center.
haonan@chinadaily.com.cn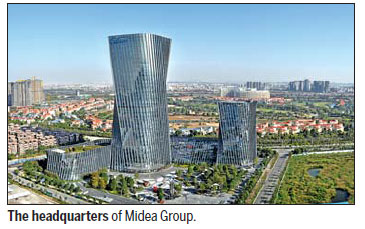 (China Daily 12/07/2017 page24)