Hainan province will establish the world's largest duty-free store in Sanya as a way to attract more tourists and benefit the local economy, a provincial official said on Wednesday.
Vice-Governor Tan Li said the local government is seeking approval from the Ministry of Finance and General Administration of Customs to expand the two existing duty-free stores in the province.
He made the statement during the 2014 Boao Forum for Asia, which is taking place in Boao, Hainan province.
Hainan will expand the area of the duty-free store in Sanya, the most popular tourist city in the province, from its current 10,000 square meters to 60,000 sq m, according to Tan.
It will become the largest duty-free shopping mall in world when it is put into operation.
Another duty-free store in Haikou will be enlarged from its current 3,650 sq m to 4,880 sq m. Tan didn't give further details.
Since the strategy of building Hainan into an international tourist destination was adopted at the end of 2009, the province has benefited from policies to encourage economic growth, social development and environmental protection.
The duty-free shopping area is one of the province's most effective means of attracting tourists.
In 2013, two duty-free stores had total sales revenue of 3.29 billion yuan ($530 million), up 40 percent year-on-year, according to the government.
During the weeklong Lunar New Year holiday this year, the stores saw 56,000 customers with sales of 240 million yuan, up 33 percent year-on-year.
Tan said that sales should continue to grow this year.
"For a long time to come, tourism will remain Hainan's major path for green, sustainable and scientific development," said Tan.
The province will shorten the approval process for projects and establish a public resources exchange platform.
Hainan's GDP exceeded 300 billion yuan in 2013, and GDP per capita increased from $2,818 in 2009 to $5,703 in 2013.
dujuan@chinadaily.com.cn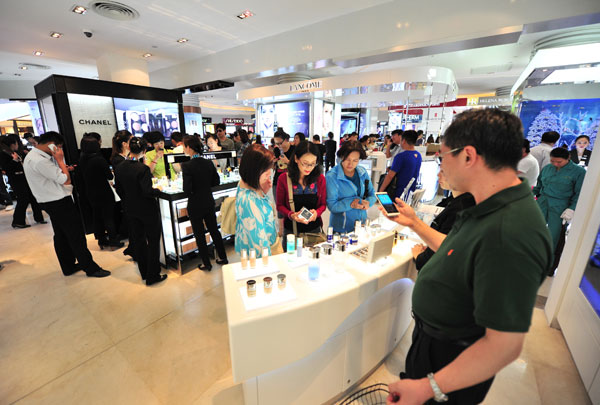 Tourists shop for cosmetics at a duty-free store in Sanya, which will be expanded to 60,000 square meters. Zhang Yongfeng / Xinhua