Discovering Dalian, Northeast China's thriving port city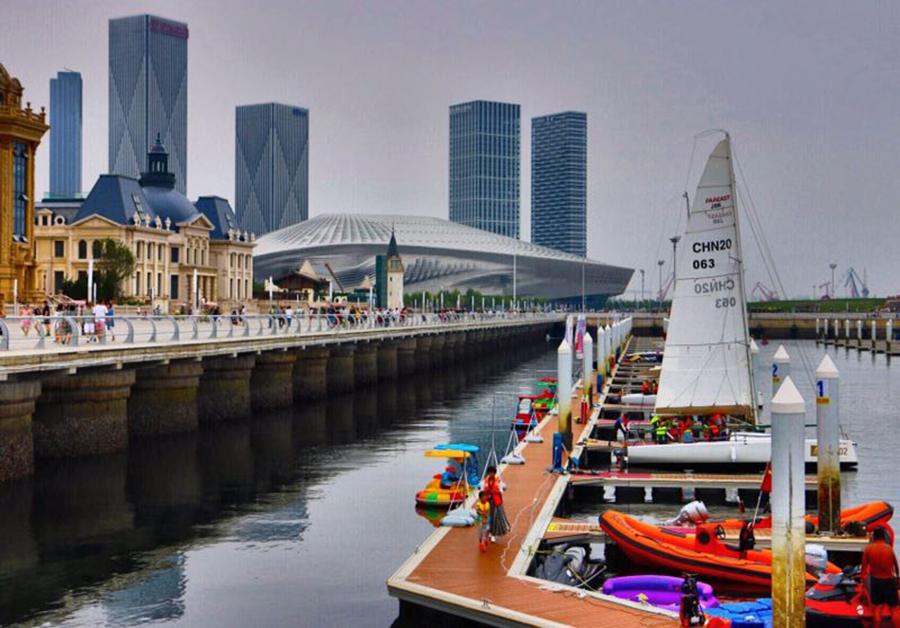 Donggang Yacht Warf and Conference Center. [Photo by Bruce Connolly/chinadaily.com.cn]
'Clang, clang, clang goes the trolley.
Ding, ding, ding went the bell'
(The Trolley Song, sung by Judy Garland in the 1944 movie Meet Me in St. Louis)
Qingniwaqiao is the center of early Dalian, a city owing much initial growth to the advent of the railway. Exiting from its prime rail terminal I momentarily thought I was in St Louis or New Orleans – there, running along Changjiang Street with the distinctive sound of steel wheels following a metal track, was a classic streetcar, or tram as we would say in my youth back in Glasgow. Scotland's largest city has long been twinned with Dalian, in Northeast China's Liaoning province. In 1991, my interview for an exchange post in Guangzhou occurred in Glasgow's Dalian House!
Dalian's tramways go back to 1909. A fleet of modern vehicles continues to cross downtown areas with several cars constructed in a 'heritage style'. My favourite mode of travel, the trams provides a leisurely way of observing the city with its fascinating mix of historic and modern architecture. The trams attract international and domestic transport enthusiasts, just as previously many came to marvel at the giant steam locomotives produced by what was the Dalian Locomotive and Rolling Stock Works (originally Shahekou Works) from 1899 until in 1965, a change started towards diesel. A giant steam engine stands outside the Dalian Modern Museum at Xinhai. Today's CRRC Dalian Co. Ltd continues to produce electric and diesel locomotives, along with metro cars at a new plant in suburban Lushunkou.