Brazilian internet companies seek funds from China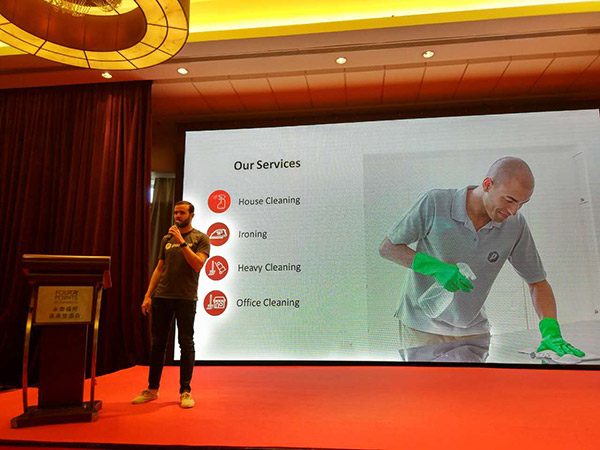 Eduardo Campos, founder and CEO of Parafuzo, introduces his company at a roadshow in Beijing on Sept 19, 2017. [Photo by Song Jingli/chinadaily.com.cn]
Encouraged by China's success stories in the internet sector, the founders of eight Brazil-based internet companies and one venture capital firm took their funding roadshow to Beijing Tuesday.
Carlos Miro, founder and CEO of Truckpad, told possible Chinese investors that his company is similar to Didi for truck drivers and had $600 million in gross merchandise volume (GMV)in 2016 and had $800,000 in revenue, up by 1,200 percent year-on-year. He added that it should have broken even by August this year. According to a fundraising brochure, the company aims to raise $5 million to improve technology and products and do more marketing.
Eduardo Campos, founder and CEO of Parafuzo, said in China, when people want a taxi, they go to Didi, but in Brazil, people go to 99, which Didi has invested in. When people in China want food, they go to ele.me, but in Brazil, people go to ifood.
"In Brazil, when people want home service, they go to Parafuzo and we are like China's 58.com," Campos said.
Campos said Parafuso wants to increase marketing spending and to launch new services in more cities so that they can serve up to 200,000 homes per month in the next two years, with a yearly GMV of $75 million and a yearly revenue of $15 million.
"By then, we could be a $200 million company," the entrepreneur said. According to Parafuzo's funding brochure, the company, which was set up in 2014, already had a break-even cash flow by November 2016 and in that year, it had $2.93 million in GMV, $433,000 in net revenue and $333,000 in net loss.
"There is a $30 billion market in home services in Brazil alone and $100 billion in Latin America but currently, 99 percent of the market is still offline, " Parofuzo's funding brochure said.
The brochure also shows that the company, which has already collected three acquiring offers, aims for an IPO in five to seven years and for Serial B Funding, its target is $10 million.
"We feel we are similar to China and that's why we came to China for financing, not the United States," Arthur Brennand, who is in charge of business development in Parafuzo, told chinadaily.com.cn on the sidelines of the roadshow. He added that this is his second trip to China. For the first trip, which was mostly for leisure, he and other executives of the company visited some Chinese companies, like Alibaba.