'Beyond the Clouds' - Lijiang in 1995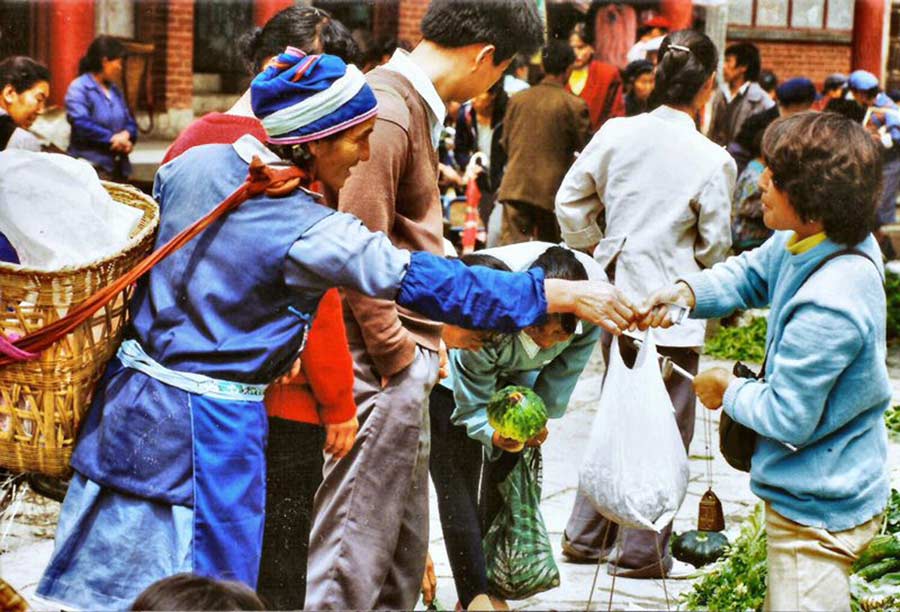 Market trading Lijiang 1995. [Photo by Bruce Connolly]
Lijiang days were relaxing and about discovery. High altitude, relatively cool temperatures, low humidity - perfect for walking or cycling. Traffic-free roads with great visibility I would cycle out of town past grazing horses to stop at a quiet location and write my notes about this remote community that had won my love and passion.
Often I would look at Lijiang and its seemingly contented, friendly people while pondering the future of such a unique place starting to open to the outside world. Obviously a potential tourism gem but as I have seen worldwide, tourism may give but can also take away. While tourism on a large scale can bring much needed wealth and employment, it presents many challenges for cultural protection, sustainability and for local society.
When I arrived in Lijiang, bus was the only travel option. When I departed 14 days later an airport had opened! There were three flights a week, yes just three and only to Kunming now 45 minutes away. I was on the second flight out of Lijiang, before heading onwards to Guangzhou and ultimately back to Scotland where I would give many talks and photo exhibitions entitled 'Beyond the Clouds'.
On 3 February 1996 my dream literally shattered. I was in Scotland and awoke to hear on the radio that a powerful earthquake had hit Lijiang, beautiful Lijiang. My thoughts were not only for the town but also for the people who had made me so welcome. Returning two years later I walked in hope through familiar alleys of the Old Town to the square - the Old Market Cafe was still there, the owner greeting me like a long lost friend. We hugged and yes, a few tears flowed. He had survived, Lijiang was rebuilding.