'Beyond the Clouds' - Lijiang in 1995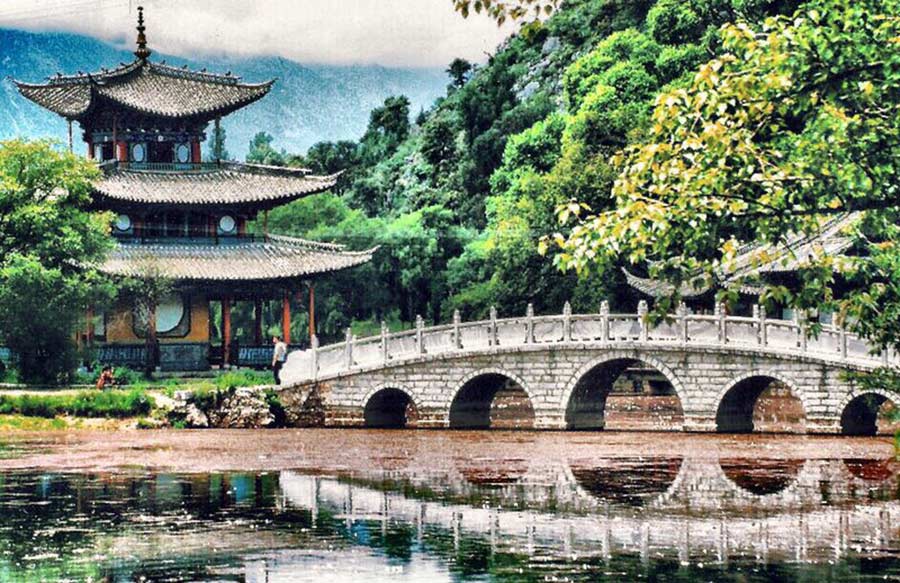 Black Dragon Pool 1995. [Photo by Bruce Connolly]
Nearing a bridge in Baisha a straggly bearded man in white lab coat rushed out almost pulling me off my bike "I am Doctor Ho!" - the legendary doctor! We drank tea over a long talk on his life and work. His many visitors books contained names I recognised including British television actor John Cleese. Ho had learned some English from American airmen based at a wartime airfield near Baisha. Visiting Lijiang with British study groups we would 'go to the doctor' - on hearing 'Scotland' he would produce a namecard - 'In 1995 I had a visitor from Scotland" - Me!!
Cycling to a temple at the base of Snow Mountain I came upon two Austrians from a previous encounter at a Kunming bank - as happens with travellers we became friends during our 'Lijiang Dream', meeting in the evenings at the Old Market Cafe, swapping stories, going to an ancient music performance - travel has always been about forming companionship while helping each other, particularly in those pre-wifi days - they were heading off to Lugu Lake, I ultimately to Zhongdian, the high-altitude mainly Tibetan populated area of Deqen.
Jinhongshan hill rises above Black Dragon Pool - many steps led to a pavilion where I could look out over Old Lijiang: the relatively small New Town; the valley; the mountains while trying to imagine the isolation and remoteness during the Tea Horse period when even Kunming was many days away. It was easy to appreciate the historic adage, 'The mountains are high. The Emperor is far away'!