'Beyond the Clouds' - Lijiang in 1995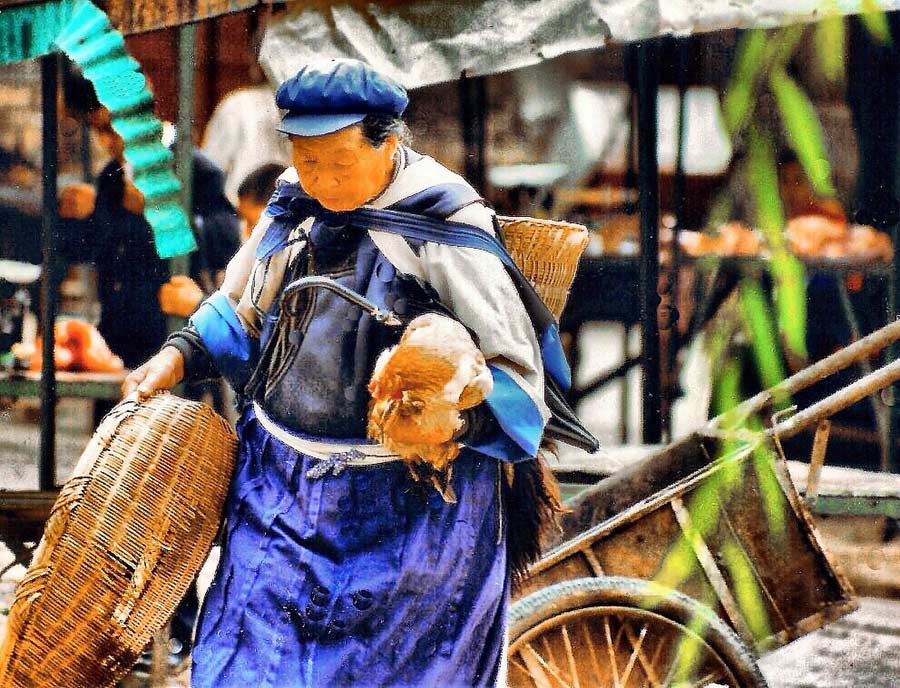 Naxi woman with basket and chicken 1995. [Photo by Bruce Connolly]
In July 1995 I set off from Beijing - forty seven hours by train to Kunming followed by a long bus journey to Dali. Between Cangshan Mountain and Erhai Lake, walled Old Dali was small, unique and stunning! Another bus along along the Yunnan-Tibet highway when close to Shigu (First Bend on the Yangtze) we veered right before climbing and climbing up a road producing increasingly spectacular vistas before emerging onto a wide valley enclosing extensive Lashihai Lake with the Snow Mountain rising above. Lijiang was coming into sight, I could feel the anticipation building. Hope seemed dashed however when we pulled into a nondescript bus station surrounded by low-rise concrete apartments and administrative buildings. Not what I was expecting and no sign of 'Gucheng', the Old Town portrayed in the television series!
Booking into the popular travellers Red Sun Hotel close to Black Dragon Pool (heilongtan) I headed across to a cafe boasting 'Menu in English' - always a welcome sign! Enjoying local specialities including 'Naxi Baba' along with curried potatoes and vegetables, I asked the waitress about historic Lijiang - she grinned, pointing out a window, while saying "Go that way, you will not be disappointed!" A few minutes later with a smile as big as the Moon I was singing "I'm in Heaven" as I entered the narrow cobbled alleys of the Old Town lined with iconic red wood and stone Naxi architecture - just as I had imagined it to be or maybe better because no film can ever replicate actually being there. The following two weeks would be some of my finest ever travel moments.
Walking amongst dark-blue costumed Naxi women carrying bamboo baskets or infants in decorated indigenous back carriers I moved slowly, stopping to photo the scene - people; open-fronted shops; tiny local restaurants; markets with displays of unfamiliar vegetables; baskets of live chickens; fish in temporary pools and much more. Following a wider lane alongside a canal, horses pulled carts loaded with coal; wooden planks led across to homes.