Denying vehicles access to roads to keep joggers happy is against law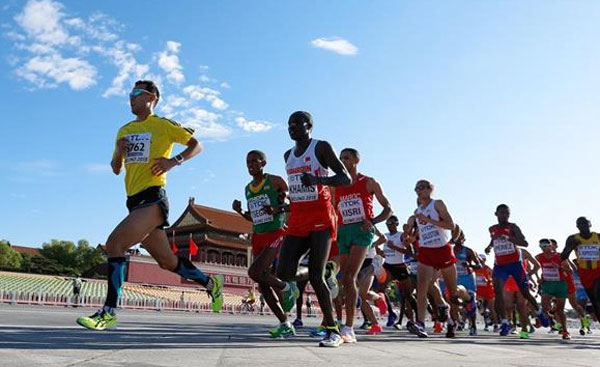 Photo/Xinhua
THE TRAFFIC POLICE IN QINGDAO, East China's Shandong province, clear some roads of traffic around Badaxia Square from 6:30 pm to 9 pm every day to keep them free for joggers. The police say the traffic control will continue. Beijing News comments:
That car drivers and joggers, especially those in groups jogging down the middle of the road, hate each other is nothing new. But their mutual hatred escalated last month when a taxi driver accidentally hit a group of joggers from behind in Linyi, Shandong, killing one of the joggers and injuring two.
The Qingdao traffic police say they decided to cordon off some of the roads to ensure everybody's safety, but according to the Road Safety Law, such measures can be taken only for major events or construction projects.
By blocking the roads for joggers, the first such move in China, the police are seriously violating the civic rights of other people to use those roads. If they want to help the joggers, they could clear a park for them.
The Qingdao traffic police are trying to defend their biased decision by saying that the traffic control is to protect the safety of all-joggers, drivers, commuters and pedestrians.
Besides, some roads are blocked for mega events or construction projects only temporarily; they are thrown open to traffic as soon as the event or project is over. Which means traffic control is the last option traffic police use when it comes to balancing the interests of all those who use the roads.
Also, the Road Safety Law stipulates that automobiles, non-automobiles and pedestrians should use their respective lanes and follow the traffic rules, so as to not interfere with each other, which in most cases leads to traffic accidents.
The traffic police are compromising the rights of other civilians by blocking the roads. Their move not only lacks sufficient legal basis but also is arbitrary, because they didn't seek public opinions before blocking the roads.