Devising a new paradigm to promote culture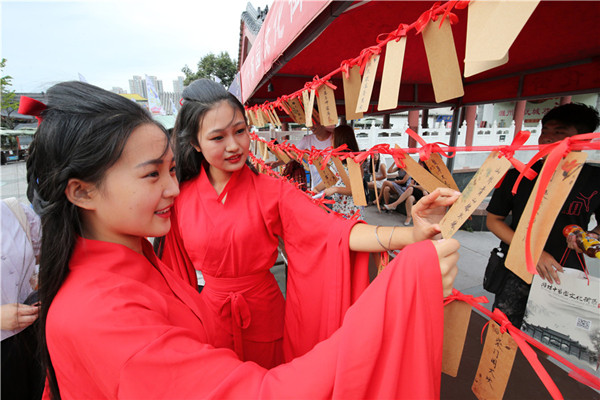 Chinese females wearing traditional dresses take part in a Qixi Festival cultural activity in Weifang, East China's Shandong province, Aug 27, 2017. [Photo by Zhang Chi/Asianewsphoto]
In today's society, the functions and values of culture keep changing, but still continue to influence youngsters. This has made it all the more important to not only preserve but also spread the values of traditional Chinese culture.
But what aspects of traditional Chinese culture should be preserved and how can they be disseminated among the next generation?
As President Xi Jinping has said, Chinese civilization is profound and boasts a long history of Chinese people's spiritual pursuit and the unique spiritual identification of the country. It is this profound spiritual pursuit that we need to preserve. As for passing down this pursuit to the next generation, certain vital factors have to be taken into consideration.
The pattern of cultural inheritance has evolved with the times, from words and deeds in ancient times to the multiple teaching agents and methods of today. So, in this age of digital media, we have to develop a new paradigm of traditional culture if we want to cater to the next generation's diversified needs.
Establishing a modern paradigm of culture means creating new cultural expressions that are compatible with both the digital media trend and traditional culture. The new paradigm should consider the demands of the virtual world and the experiences that today's youngsters go through. The new paradigm should also take into account the cultural products and services of these changing times.
First, the new paradigm should be developed with the focus on the virtual world. According to Pierre Bourdieu's "field theory", the social world today is divided into a variety of arenas or "fields" of practice like art, education, religion and law, each with its own unique set of rules, knowledge and forms of capital. And people use their capital to stake claims within a particular social domain.
Human society has already entered an era where a large percentage of cultural products-and therefore consumption-emerge from or because of the virtual world. As such, a traditional cultural mode can hardly fulfill its needs.
So we have to pass down traditional culture to the next generation using more interesting and innovative means. For example, the United States online game industry has developed robustly over the past years, and many of its products carry Western cultural values that influence the young users. This means Western cultural values are passed down to the users through these products.
Learning from the US, the Chinese cultural industry should develop more innovative recreational products that carry traditional cultural values, in order to help youngsters realize the strength and importance of Chinese culture.
Second, we have to acquire a sound knowledge of youngsters' personal traits and behavioral characteristics. Since youngsters are more open to new ideas and products, two things have to be kept in mind while designing new cultural products. One is to ensure the products help the youngsters to develop as socially conscious individuals, and the other is to guarantee the youngsters are treated as equals.
Since youngsters, in general, expect equal treatment from adults, we should stop telling them to accept traditional cultural values without judging their pros and cons. Instead, we need to make efforts to involve them in developing the new cultural paradigm.
Third, we should focus on how to improve the interactive qualities of cultural products, so that their users feel more involved. For instance, online games have become popular among youngsters because they help them experience the joys and benefits of interactions.
Hence, we should abandon the traditional linear storytelling style when interacting with youngsters, as cultural shows such as The Reader and Rendezvous With Chinese Poetry, produced by China Central Television, which have non-linear content are a hit among youngsters.
The need to meet youngsters' needs is something we should never forget while designing new cultural products and promoting traditional Chinese culture.

Fang Qing

The author is dean of School of Information Management, Wuhan University.