Seoul should stop dancing to wrong tune of THAAD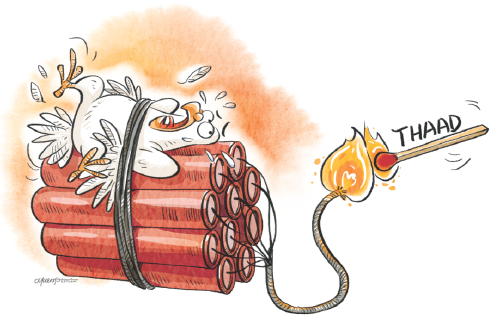 [LI MIN/CHINA DAILY

]
The Republic of Korea's defense ministry signed a land swap deal with Lotte Group on Tuesday to deploy the Terminal High Altitude Area Defense anti-missile system in the country, which China and Russia believe will further compromise regional security. Reports say THAAD could be installed as early as June, before the ROK elects a new president.
That THAAD's deployment will escalate tensions on the already tense Korean Peninsula is a foregone conclusion. The missile interceptor, which is to be deployed at the forefront of the United States' anti-missile system in West Pacific, not only makes the ROK an expendable chess piece in Washington's "rebalancing to Asia" game, but could also trigger a new "cold war" in Northeast Asia where distrust already prevails.
On Thursday, China's Ministry of Commerce spokesman Sun Jiwen reiterated the country's stern opposition to and urged relevant parties to stop pressing ahead with the deployment of the anti-missile system. Asked about the anti-Lotte sentiment among some Chinese netizens, Sun said the Chinese government welcomes all foreign enterprises and protects their operations in the country as long as they are legal.
As the ROK's biggest operator of department stores and duty-free shops, Lotte has seen sluggish growth in its retail business in China-sales in its stores in China fell 14 percent last year. It is clear therefore that Lotte's involvement in the THAAD deal signed by Washington and Seoul bodes ill for its business in China.
Seoul will have to face the consequences if it pushes forward with the deployment of THAAD, and China-ROK economic ties, even regional trade exchanges, may fall victim to its ill-considered decision.
China is the ROK's largest trading and investment partner, with their bilateral trade volume reaching $171.8 billion in the first 11 months of 2016. The annual China-ROK trade volume has exceeded the combined value of the ROK's trade with the US, Japan and Europe.
The close economic ties shared by the two neighbors have brought considerable benefits to peoples on both sides. The exponential growth in political, economic and cultural exchanges are particularly noteworthy given that Beijing and Seoul established diplomatic relations only 25 years ago.
Bilateral trade reached a record $234.5 billion in 2014, almost 47 times that in 1992. It is estimated that the ROK's trade surplus with China, which has long been huge, has been no less than $450 billion over the past 25 years. And entertainment and tourism are among the ROK industries that have benefited the most from trade with China.
Seoul, therefore, is committing a blunder by showing little interest in withdrawing from the THAAD deal, even at the risk of undermining its hard-built partnership with Beijing. China is not a security threat to the ROK. Rather, the ROK can use the Chinese market to tide over its unpromising economic growth and the political unrest at home.
Seoul's shortsightedness has already had a huge impact on the ROK economy. Its exports to China dropped 9.5 percent year-on-year to about $152.8 billion in the first three quarters of 2016. Its trade surplus with China too has been dented, registering a year-on-year decline of nearly 25 percent. It's a natural market response of Chinese consumers' choices.
China has made its point clear-that it will not make any compromises when it comes to its core interests, to which THAAD poses a grave danger. As such, Seoul should stop dancing to the wrong tune.
The author is vice-president of Liaoning Academy of Social Sciences and a senior research fellow at Pangoal Institution.