Interest chains enable enterprises to default on repaying bank loans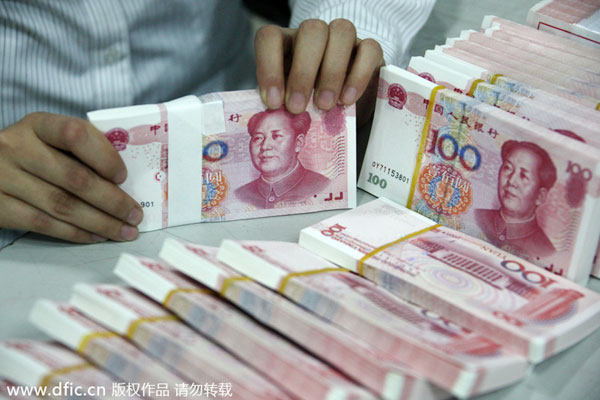 An undated photo shows a clerk counts yuan bills at a bank in Huaibei, East China's Anhui province. [Photo/IC]
REPORTS SHOW THAT at least 700 enterprises managed to avoid repaying their bank debts over the past five years, which caused losses of billions of yuan to domestic banks. This year, China Banking Association submitted a number of lawsuits for banks, involving about 15 billion yuan ($2.2 billion). Although the banks won, they have still failed to get their money back, Beijing Youth Daily comments:
The phenomenon of enterprises not paying their debts is nothing new. As early as the 1990s, there were reports of enterprises going bankrupt and banks losing the money they had loaned them.
However, the phenomenon has become increasingly serious over the past few years, with some local governments and bank officials facilitating the process. Some local governments unconditionally favor local enterprises; as a result, when the enterprises suffer losses, some leading local officials often help "shift" the burden to banks by "coordinating" between the local enterprises and banks, so that the enterprises can avoid paying their debts.
That's what happened in the case of LDK Solar, based in East China's Jiangxi province, which owed banks about 27 billion yuan. After the company went bankrupt, the banks only got back about 210 million yuan in total.
In some special cases, the leading local bank officials, who are part of the local bureaucracy, even help the enterprises avoid paying their debts. They do not care about the banks' losses because they can easily shift to other positions in the local bureaucracy.
But the public should care. Banks do not own the money; they get the money from the deposits of governments, enterprises, and individuals, so the banks' losses mean risks to depositors.
In order to effectively stop enterprises from not paying back the money they owe, the penalties for them maliciously seeking to escape their debts must be made heavier. Some entrepreneurs are already suspected of breaking the law, but seldom do we hear any of them receiving any punishments.
Besides, more attention must be paid to local officials, even bank officials, who collude with the enterprises for their own interests. What is needed is to cut the interest chain between them and the enterprises, as well as better regulate the officials, so that they won't be able to escape.