Helping rural teachers can help reduce drop-outs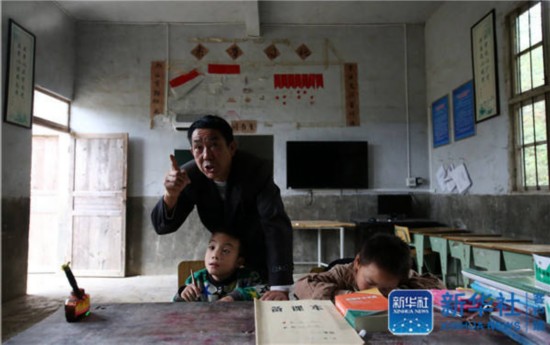 Yang Jinhua, the only teacher in Muqiao primary school, helps students with their homework on October 24, 2016. [Photo/Xinhua]
It is not uncommon for children from Guizhou province and other parts of Southwest China to work at small workshops in coastal provinces such as Jiangsu province, an economic engine in the Yangtze River Delta. Beijing Youth Daily commented on Thursday:
Teachers in poverty-stricken areas can do little to prevent children from quitting school to go and work in factories in better-off places.
Most of these child laborers are children who have been left behind in their hometowns by parents who work elsewhere. And even if it is free in their hometowns, few of the children think completing the nine years of compulsory education will bring them a better future. They would rather start working as early as possible, so they can make money as soon as possible.
The government should not ignore the fact that even if these children finish their junior middle school education, it is very difficult for them to succeed in the competitive entrance exams for high school and college or in the competition for good jobs, because the quality of the nine-year compulsory education in their hometowns is generally low.
And the cost of high school and college education is a practical burden for their families. Statistics show even if students in the countryside pass the college entrance exam, most of them go to "third-class colleges". It is easier for a migrant worker to find a job than a graduate of such schools, and the income of migrant workers may even be more.
Compared with a costly and uncertain future that going to school offers them, the children in poor rural areas would rather have the certainty that working in a factory brings them.
The government needs to increase the pay for teachers in rural areas in order to attract better teachers to work in these areas, increase its input into rural education to improve its quality, and provide vocational training and education for those who would like to work after leaving junior middle school.