Greater energy efficiency fueled by upgrading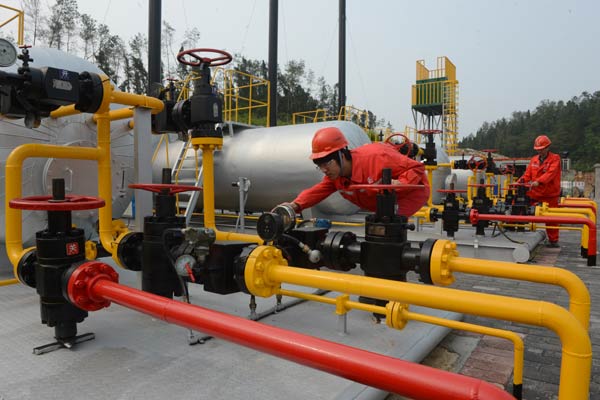 Technicians check shale gas transport facilities in Chongqing. China is believed to possess the world's biggest estimated technically recoverable shale gas resources.[Provided to China Daily]
Overseas media are mistaken in saying the Chinese economy has "suddenly gone on a tear."
In fact, as reported on Thursday, the country's manufacturing continued to expand for the fourth consecutive month in November. For improvement in China's economic performance is not something that comes all of a sudden.
The manufacturing Purchasing Managers' Index, a measurement for business activity based on a 50-point bust-boom line, was 51.7 in November, up from 51.2 in October.
The last time manufacturing expanded at this pace was in July 2014, according to government data.
One has reason to believe that on the corporate level, China's transition over the four years, painful as it has been, is beginning to yield some results. Those transition pains have helped the nation to gather the momentum it needs for a different kind of growth from that of the past.
More than ever before, industrial growth is led by more sophisticated operations, based on the increasing use of technology rather than an ever greater use of resources.
This being the case, the latest round of price rises in crude oil, following the agreement between OPEC and Russia to cut output is unlikely to pose much of a new problem-even though China's dependency on energy imports, crude oil in particular, remains high.
The deal, in which OPEC members have agreed to cut their output by 1.2 million barrels per day and non-OPEC countries, primarily Russia, by 0.6 million barrels per day, represents OPEC's first coordinated action with Russia in 15 years.
Since, OPEC produces one-third of the world's crude oil supply, around 33.6 million barrels per day, its decision sent crude oil prices soaring by more than 10 percent overnight.
Although further output cuts are unlikely, the effects of the deal will continue to be felt for some time.
But on China's part, it is not dependent on oil imports from OPEC and Russia. It has its own oil and natural gas resources and strategic reserves. It also imports some from the United States.
At the same time, the nation is also trying hard to raise its energy efficiency. It no longer sees any advantage in directing massive labor to low value-added export operations. Its latest manufacturing growth has been achieved parallel to a tremendous effort to shut down or relocate operations that are uncompetitive.
This has reduced China's dependence on energy on the per output unit basis. And with energy innovations and expanding use of the renewable, China's economy will continue to grow.