Is mother's act worthy of award?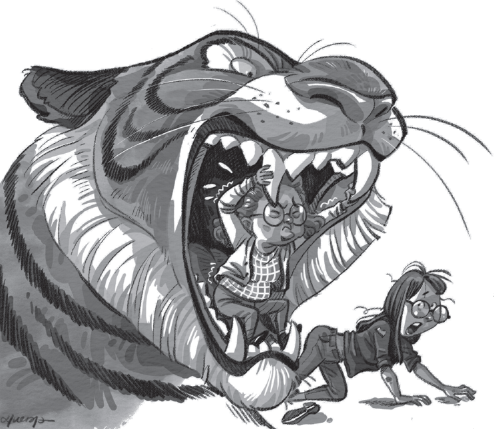 LI MIN/CHINA DAILY
Editor's Note:
On July 23, a woman surnamed Zhao got out of a car in Badaling Wildlife Park in Beijing and was attacked by a tiger. Her mother, who rushed out of the car to save her, died after being mauled by other tigers. Zhao miraculously survived the attack. Recently, she filed a lawsuit against the park, seeking compensation of 1.54 million yuan ($222,576) and requesting the authorities to bestow the title of "justice-upholding volunteer" on her mother for her bravery, sparking a debate online. A media outlet conducted an online survey, in which 2,393 people, or 89 percent of the respondents, said her request was unreasonable, while 294 supported her. Following are two views on Zhao's appeal:
Mother courage
Many Western countries reward good Samaritans for their deeds and encourage people to help those in need. They also give awards (sometimes in cash) to people for their bravery. In China, too, most of the provinces, municipalities and autonomous regions have their own local regulations for rewarding people who come to the help of others without thinking of their own safety.
Zhao's mother showed exemplary courage in her attempt to save her daughter, so the court's ruling should follow Beijing municipality's regulation on acts of bravery. Unlike some other countries, China does not exclude close relatives from the group of people who deserve awards for acts of bravery, although it defines a courageous volunteer as "someone who helps fight crimes or curb natural disasters", which is the principle most of China's local regulations follow.
Local legislatures have worded the regulation this way to encourage more people to fight crimes and come to the aid of others needing help.
Zhao's request that her mother be declared a "justice-upholding volunteer" may be rejected, not because of the mother-daughter relationship, but because a tiger attack is neither a crime nor a natural disaster. Of course, her mother's act was courageous and instinctive and the State could still honor her in other ways.
Mao Lixin, a lawyer in Beijing-based Shangquan Lawyers' Office
Natural instinct
Many people say Zhao put herself and her entire family in danger by getting out of the car in the wildlife park. So rash was what she did that many people have opposed everything she has said and laughed at whatever requests she has made.
She did something dreadfully rash in the park so she should be responsible for its consequences. But people have no reason to be angry with her mother, because she was an innocent victim in the tragedy.
When the tiger attacked Zhao, she instinctively rushed to her daughter's aid. She may not get the title of "justice-up-holding volunteer", because a tiger attack is neither a crime nor a natural disaster, but that does not change the fact that she was an exceptionally brave mother and deserves to be recognized as one. It is understandable that people are angry with Zhao for what she did, but they should not put her mother in the same category.
Besides, Zhao did act rashly by getting off the car in the wildlife park. However, her appeal to get due recognition for her mother's bravery is a rational act. So her lawsuit should be judged in legal terms, not in terms of the rashness she displayed in the park.
Zhang Zhouxiang, a writer at China Daily