Pakistan's former prime minister: China should continue to reform agenda to sustain growth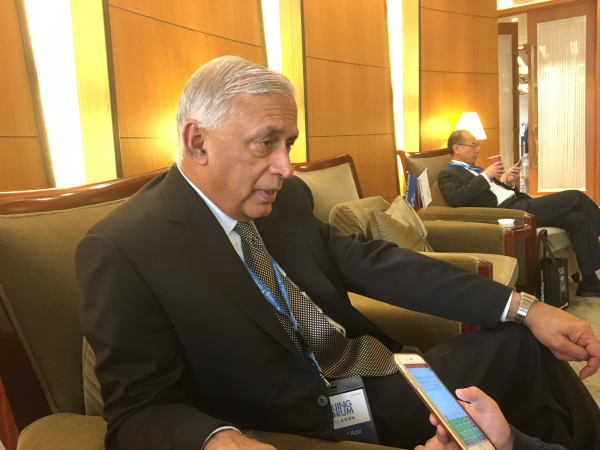 Shaukat Aziz is being interviewed by the China Daily website on Nov 4, 2016. [Photo by Wu Zheyu/chinadaily.com.cn]
Editor's note: In a long-ranging interview with China Daily website, Shaukat Aziz, the former prime minister of Pakistan, comments on China's Q3 data and discusses the opportunities and challenges both China and world are faced up with in 2017. He emphasized that the continued structural reform will definitely fuel the economy.
1. What's your evaluation of Q3 data? Many analysts pay special attention to PPI, the producer price index, which gauges factory-gate prices, which rose by 0.1 percent year-on-year in September but had been falling in China since March 2012. Does the PPI growth hint reform measures are taking effect?
The growth rate of 6.7 % is quite excellent performance, and you have to sustain it. I really believe in Chinese economy, which I saw continued growth already, and the direction of growth is positive, China's also going through a series of structural reforms, the reform will definitely fuel the economy.
I also see China has growing private sector, both public sector and private sector are growing prosperously. Of course China, being a major economy of the world, on one hand China would be subject to the global economy's changes, on the other hand global economy also be easily affected by how China performs. I tend to make positive projection. For example we could observe that the products that China produced are changing, moving towards medium-tech and high-tech. Why they are producing wide ranges of products? The value-added products and the sophistication of them would prove its value with time, which would give them with better returns, or the investment they want to make and facilitate. Chinese brand is being recognized all around the world now.
Another thing I think about China is that I've never seen any countries in the history studied about infrastructure transition, though all the countries' paces are fast and rapid, as impressive as China. So when you have infrastructure linkages, these factors would all give rise to economic growth.
The initiative brought by president Xi, One Belt One Road, it will also have massive and positive impact on Chinese economy. If you look into China and Pakistan corridor and One Belt and One Road, it will contribute broader benefits to connectivity between China and Pakistan, which will open new routes and ability to transfer goods from any parts of the world to Gwada, to western part of China very quickly. And also it will create jobs, investments and more kinds of economic activities. So I think China's economic growth and structural reform are really positive, it may faces challenges like instability of the world economy, but the projection is very positive. I'm encouraged that what Chinese government has done is continues reform agenda, that's very important, to get effective outcome.
2. Could you tell us your thoughts on the most impressive achievements and bottlenecks that developed economies and emerging markets met in 2016 respectively?
The growth rate is slowed down globally, because of various factors, which also affect emerging markets because of no emerging markets are big markets for emerging markets, right? Cause the growth rate of developed countries is slowed down and it's affecting the exports of developing countries. However, the domestic markets of emerging markets countries are growing rapidly, so we've seen rapid positive growth in emerging markets. Also the emerging market countries need to proceed continues structural reform, to make their economies more efficient and transparent, to increase professionalism, to allow private sector and public sector to compete at the highest level of the world, the level of compete has to be global standard.
3. The World Economic Outlook 2016 issued by the IMF calls for countries all over the world to use coordinated cooperation and effective policy levers to boost the growth prospect. What's your opinion on using these two tools properly?
Global policy coordination is essential that many institutes endeavor to achieve, including IMF, which is dealing with monetary policies, and also World Bank and other regional banks, they also facilitate the bilateral communications between governments. I think one thing I want to mention especially and which is a new creation, is Asian Infrastructure Investment Bank (AIIB), which would give a big boost to modern trade in infrastructure development. Because from now on we would have really professional infrastructure investment bank based in Beijing, which is an extending to financing the whole region in Asia, so that is a positive bank cause it allows countries to improve their potential growth in infrastructure. If we trace back to history, when you have roads, infrastructures, trade and connectivity, then you need many services: communication, transportation, all these services create jobs and economic activities. So it's not only win-win for China but also win-win for anyone who's in the other side, who's taking advantage of these would eventually benefit from them.
4. People are paying very close attention on whether the property market could sustain stable development and whether private investment would grow. What do you think these two areas will look like in 2017?
The fundamental of property market in China would continue to be long term positive. This is because it has large population whose living standard and requirement of housing quality is improving, cities are developing. Of course the growth rate maybe a little lower than what was before, but it's still positive impressive growth. So as for real estate market, maybe the price growth is not there, while the demand would be still there, based on the large population's needs for better housing.
The suggestions I could give is that real estate developers should be careful when they're producing houses, to choose right types for target markets, to rely on the real need of market. Instead stick to growth agenda, they should be smarter and be specific on customers.
5. The research department of PBOC pointed out, compared to other economies, the ratio of debt and GDP in China's non-financial sector is still reasonable, while the leverage ratio of the corporate sector maintains high and keeps moving forward. Would you give some suggestions for de-leverage? Evidence from other countries improve that for the first two years of de-leverage process, it somehow could pose negative influences for economic development, after this period then it could achieve rebound. How could we control the short-term negative influences brought by de-leverage?
PBOC is really professional central bank, within the banking system, private sector should be very cautious about how much they're borrowing and what the leverage is. Because I believe that banks themselves are also very cautious, if there are too much leveraging, they would not lend any more. And also PBOC act as regulator, it would oversee each bank to see their portfolios, to prevent them from over-lending. It's a very important point and we must highlight it repeatedly because in the history there are full of examples that crisis happened because of leverages. I'd prefer leave this problem to central banks and the regulators; they're really qualified to deal with it. I'm also impressed that China's ministries and central bank governor, they're quite professional people.
If in the short term, de-leverage may bring negative influences to economy, it's the regular pattern of economic development, you may have fluctuation, then you have consolation finally you regain the growth again. The economic cycle problem is faced globally, since you're connected to it, you could not escape from the cycle.
6. What would you predict will be the biggest challenge for China in the next year when deepening the reform?
I think the biggest challenge would be laid in the labor market in several industries, the need for trained people, especially in the service sector. Because China achieve most growth in service system, like tourism, IT, telecommunication, value added sector would need people who're qualified for the industries. The human resources to meet the future requirements of economy is key, and also need the innovation of education system.