From Revolution to Reform: Yan'an's long march to economic revitalization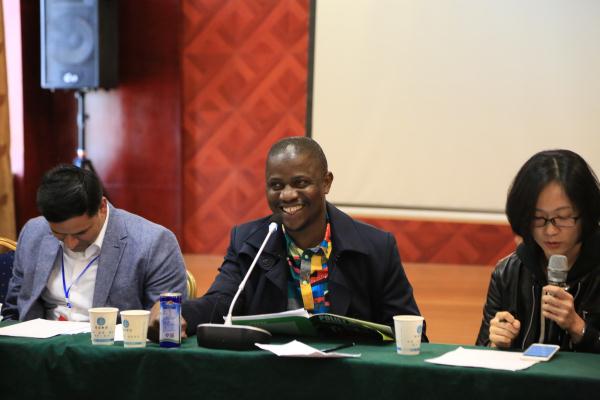 Michael Omoruyi gives a speech on a Long March seminar held in Yan' an, Northwest China's Shaanxi province, on October 30, 2016. [Photo provided by Jiang Xin/CYOL.COM]
As I look at the new Yan'an from my window on our second day –the most significant symbolic location of the Chinese revolution and a town that accounts for approximately 9 percent of Shaanxi Province's total GDP. A town whose agricultural sector generates the highest value added industrial output, accounting for approximately 8 percent of the city's GDP today, then I remembered a popular saying in my hometown "war is not beautiful", it was a devastating and exhausting campaign.
However, today, in the reform era, we share victory, not pain with the Chinese people. However, there were two other veterans that shared the same experience of victory with me: 96-year-old Kang Wenhua and 98-year-old Liu Hailin. Both veterans took us back to the days of their youth.
Speaking to us during a seminar meeting run by local organizers in Yan'an, both revealed their experiences during the Long March. After hearing them speak, it was difficult to imagine what it must have been like for these brave Red Army soldiers on the Long March, because the victory came at a dreadful cost.
Still on the second day of our trip, I observed that Yan'an is rich in cultural landmarks and revolutionary sites. We visited the Yan'an Precious Pagoda Mountain, which was built during the Ming Dynasty (1368-1644) and became a symbol of the Chinese revolution, since CPC established its headquarters in Yan'an in July 1937.
We also went Yangjialing Village where the CPC Central Committee directed the war against the Japanese, where Xinhua News Agency, Xinhua Broadcasting Station, and Jiefang Ribao (Liberation Daily) have had offices. It was only at this moment, following in the footsteps of those brave Red Army soldiers, that some of the bitter struggles and pain they endured finally became real to me.
But suffer they did, especially at this point, but now they don't face revolution anymore, but rather, reform. As I said in my other publication, people are transforming the old revolutionary town into an e-commerce center. Today, Yan'an is peaceful and has plentiful business opportunities for both farmers and entrepreneurs.
Most of the farmers and entrepreneurs think the internet is a powerful key to promoting local agricultural merchandises to other part of the globe. According to a CCTV report, an e-commerce business owner named Qiao was the first to sign several contracts with local farmers inYan'an. He was able to turn these farmers' millet business into a fortune on the internet.
We were told by the local organizers that in 2016, Wuqi County in Shaanxi province attracted the attention of the e-commerce giant Alibaba. This will provide a new platform for the farmers to market their products through the internet as well as raising its profile globally. This will creates more business opportunities and increase the employment opportunities for the locals.
Furthermore, Yan'an is known as the holy land that transformed the destiny of China during the periods of war. While traveling through amazing, diverse scenery, I noticed that the town has many revolutionary sites and martyrs' cemeteries. These amazing revolutionary sites attract millions of tourists who wish to recall those impassioned revolutionary days.
The Chinese travel a lot and they are the largest providers of worldwide tourism revenue. It is time for the Chinese government to harness this huge market. According to data from the China Tourism Research Institute, China had over 120 million Chinese who traveled abroad in 2015. These Chinese tourists spent a total of $104.5 billion dollars. But due to the fluctuation of the exchange rate recently, the cost of traveling overseas has gone up for Chinese tourists. Tapping these tourists could be a huge boost to Yan'an's local economy right now.
Furthermore, the United Nations' World Tourism Organization data shows that, for every five per cent of the global GDP, tourism offers one in twelve jobs globally. Eighty years on, China's policymakers are looking to harness the power of tourism to help develop the country's poorest regions. The aim of the Chinese government is to raise 12 million people out of poverty through tourism in the next half a decade. To do this infrastructure development is the key, as the beginning of infrastructure is the beginning of reform. With this new strategy of reforming the local economy through tourism, they will be able to attract more people both from China and abroad to Yan'an.
The beginning of struggle, perseverance, determination, and unity is the beginning of freedom, development and a glorious new dawn. Yan'an has proven this to be true with their current state of reform.
Michael Omoruyi is a researcher from Institute of African Stuties Zhejiang Normal University.