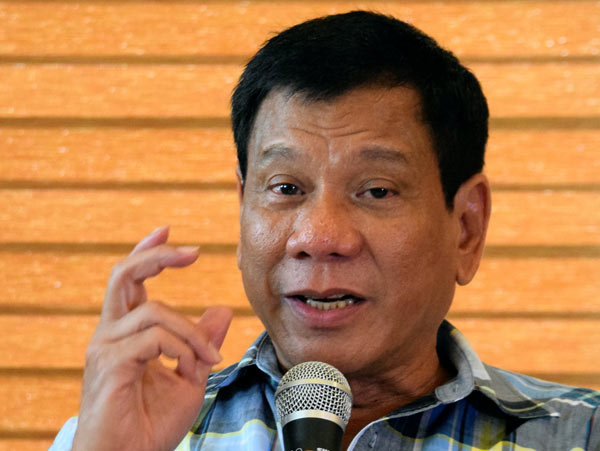 President-elect Rodrigo Duterte speaks during a news conference in his hometown Davao City in southern Philippines, May 16, 2016. [Photo/Agencies]
Via unilateral South China Sea arbitration, Benigno Aquino III drove Philippine-China relations into a hopeless cul-de-sac.
But Beijing and Manila do not have to be locked forever in a mutually damaging standoff.
After meeting with his Philippine counterpart in Vientiane, Laos, on Friday, Chinese Minister of Commerce Gao Hucheng said the South China Sea issue would not affect the two countries' cooperation in economy, trade and investment.
He also announced the two countries have agreed to reactivate by the end of the year a joint liaison committee overseeing economic and trade collaboration, which has been suspended for five years.
This has happened, in Gao's words, because the new administration of President Rodrigo Duterte in Manila has repeatedly expressed willingness to improve ties through bilateral dialogue, creating favorable conditions for cooperation "in all fields". And both sides believe such a longstanding, historical issue is not the entirety of the China-Philippine relationship.
That the two trade ministers have navigated the negative impact of the arbitration and maneuvered such a consensus shows impressive political maturity in handling such an otherwise explosive topic. Without such sophistication, trade could easily degenerate into a tool of vengeance, which would in turn escalate tensions.
In an even more inspiring latest development, former Philippine president Fidel Ramos is in Hong Kong as a special envoy of President Duterte seeking to initiate dialogue.
Ramos' record as a peace broker at home, and more recently in the Asia-Pacific via the Bo'ao Forum for Asia, offers optimism for the success of his mission.
But we are not talking about a matter of regular complexity. The South China Sea conundrum is too complicated to unravel through a couple of rounds of talks. Plus the arbitration has just rendered things uglier with its intrinsically flawed award.
The relatively low profile Beijing and Manila have kept over Ramos' visit is a credible sign that both will tread prudently. As the Philippine side has indicated, the visit is an opportunity to compare notes and try to reach "preliminary consensus".
Significant as it is, this is only a tentative first step. The first test for Ramos and his Chinese hosts will be whether they can keep the ruling, which is in Manila's favor but Beijing deems invalid, from ruining the momentum of constructive interaction.
Each party has difficult decisions to make. But since both parties seem to want to make a breakthrough, they should do everything possible to make it happen.