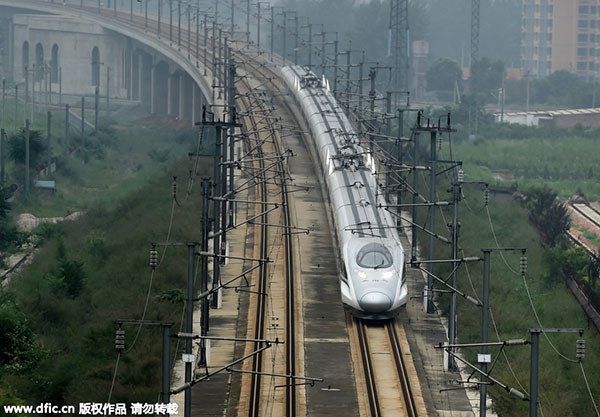 A train pulls into a station in Luoyang city, Henan province, June 30, 2015. [Photo/IC]
The beijing-shanghai high-speed railway made nearly 6.6 billion yuan ($1 billion) in net profit last year. This should refute doubts about its profitability and sustainability, says an article posted on the National Radio of China website on Wednesday:
Statistics show the Beijing-Shanghai High-Speed Railway Company's net assets hit 131.17 billion yuan by the end of last year, and its debt-to-asset ratio is 27.74 percent.
Among all the high-speed railways in China, the Beijing-Shanghai line has the best profit-making performance and has benefited places along the route, which connects 24 cities within a 4.5 hours' ride at most. Take Qufu, the hometown of Confucius in East China's Shandong, for example. The city's tourism revenue and economy have grown markedly since the high-speed railway came into service.
However, the decision to build a high-speed railway should be taken prudently, as a high-speed railway costs more to build than a normal railway and thus it takes longer to earn the input back.
China should draw lessons from the success of the Beijing-Shanghai high-speed railway and use the experiences of that line in the construction and operation of other high-speed railways.
If other high-speed railways can follow its example, they will also be profitable. As many potential private investors in China are still holding a wait-and-see attitude toward the government's invitation to take part in China's high-speed railway projects, the Beijing-Shanghai high-speed railway should give them the reassurance that they can make money.